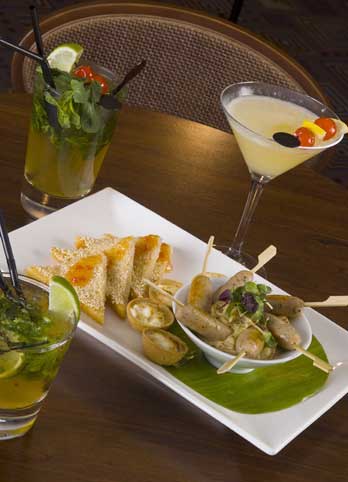 The Royal Garden Hotel will remain forever young this summer thanks to being the official hotel partner for the inaugural performance of Peter Pan in Kensington Gardens. Until 30th August the hotel will play host to a series of Peter Pan inspired tributes, including themed cocktails, through to pre and post theatre menus inclusive of tickets to the show, all of which will guarantee that you too take a trip to Neverland.
Dining
Enjoy lunch before a matinee performance or a pre or post theatre dinner, at either the award winning Chinese restaurant Min Jiang or the more traditional Park Terrace restaurant. Both offer panoramic views over Kensington Gardens and Hyde Park.
Min Jiang – for a bird's eye view of Kensington Gardens, try one of the packages available at Min Jiang, located on the 10th floor:
➢ a three course lunch with a glass of wine and a top seat ticket to the matinee performance of Peter Pan, for just £54.50 per person
➢ a three course dinner with a glass of wine and a top seat ticket to the evening performance of Peter Pan for £60 per person
➢ Alternatively for those who already have tickets, opt for a pre-theatre, three course lunch for £19.50 including a glass of wine or a pre-theatre dinner to include three courses and a glass of wine for £25.
The Park Terrace – for a leisurely lunch prior to a matinee performance, The Park Terrace on the ground floor will be offering two courses for £15, or pre-theatre dinner for £20, both of which include a glass of wine. Alternatively opt for a full package with one of the following:
➢ Two course lunch, glass of wine and top seat ticket for £50 per person
➢ Two course dinner, glass of wine and top seat tickets for £55 per person
Cocktails
Transport yourself to Neverland via Bertie's Bar where cocktails such as the 'Tinker-Bellini', (champagne, peach juice and crème de cassis), 'Captain Hook' (white rum, blue caracoa, coconut cream and pineapple juice) and the non-alcoholic Nana's Mocktail (grenadine, coconut cream, cream and pineapple juice) will all ensure you feel young again …
Sleeping
To prolong the magic even more, from 17th-27th August 2009, guests can enjoy a one night's stay in a Superior room at the Royal Garden Hotel for just £225 per room, per night, including full English breakfast and two tickets to Peter Pan. Alternatively two adults and two children can take advantage of the same package staying in an Executive Room for £350, to include four tickets to Peter Pan.