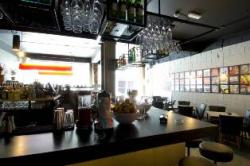 Winners of the Imbibe Service Awards as 'Best Neighbourhood Restaurant' in October 2009, and Restaurant Magazine's 'Best Dish in the UK' for 2 years running for their cheese plate, the PINCHITOtapas, group, is putting an exclusive New Year's Eve party up for sale on eBay at each of their sites in what is reportedly the first auction of its kind.
Accommodating up to 100 people on December 31st, PINCHITOtapas' New Year's Eve package, will include the entire venue hire, a DJ and a special late license to ring in the New Year. Together with this tapas and cocktails to the value of their bid will be served to their guests throughout the evening. With bidding starting at £0.99 the auctions will close at 10am on 21st December 2009. The winning bidders will be able to choose how they wish to spend their evening, the number of guests and how much they spend on the night beyond the value of their bid, PINCHITOtapas will be sure to do all they can to accommodate them.
PINCHITOtapas is offering parties at both its WC1 and EC1 sites. This is a novel idea, if it appeals to you, why not look into it and perhaps, make a bid!
For more information about PINCHITOtapa, log on to their web site, the details of which are below.
PINCHITOtapas EC1: 32 Featherstone Street, London, EC1Y 5QX. T: (020) 7490 0121
PINCHITOtapas WC1: 11 Baylet Street, London, WC1B3HD, T: (020) 7637 3977