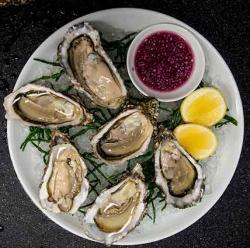 Chef Allan Pickett and Restaurateur André Blais have announced the opening date for Piquet restaurant on Newman Street, Fitzrovia.
The Fitzrovia restaurant, which will bring together the culinary cultures of France and England, will be open for business on Wednesday 23 September 2015.
The seasonal menu will feature Allan's signature blend of both classical and contemporary dishes. Ingredients will be sourced from around the UK and specifically Kent, Pickett's home county, in dishes such as Littlebourne snails on toast*. There will also be a menu du jour priced at £16.50 for two courses and a daily changing roast served from a carving trolley.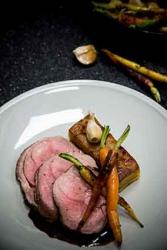 Piquet's wine list has been carefully researched and curated by Alain Morice, General Manager at Piquet. who moved to the UK and worked with Allan at Aurora in the Great Eastern Hotel and most recently held the position of General Manager at The Don in London.
Chef-Patron Allan Pickett (former head chef at Plateau, Aviator, Galvin Bistro de Luxe and Orrery) will head up the daily operation of the 98 cover restaurant.
Diners will have the option to reserve a table in the restaurant downstairs or to drink and dine in the Fir Room, a no-bookings dining space on the ground floor
The interior design, created by Quentin Reynolds and the team at Reyco, features painted decorative Gesso panels, vintage British chairs, classic French pewter comptoir table tops complemented with heritage pieces of both French and English tableware. Music has been carefully selected from the Verve catalogue of jazz hits to reflect the decor. There will also be a specially commissioned artwork by East London artist Dameon Priestly.
Reservations are now being taken, call 020 3826 4500 or email enquiries@piquet-restaurant.co.uk to book your table.
*Braised snails, shallots and garlic, celeriac purée
Piquet opening hours: 
The Fir Room (Ground Floor) 
Monday – Saturday 11am-11pm Sunday 10.30pm close
No reservations
Piquet Restaurant (Lower Ground)  
Monday – Saturday 12-3pm and 5.30-11pm Sunday 10.30pm close
Address: Piquet, 92-94 Newman Street, London. W1T 3EZ