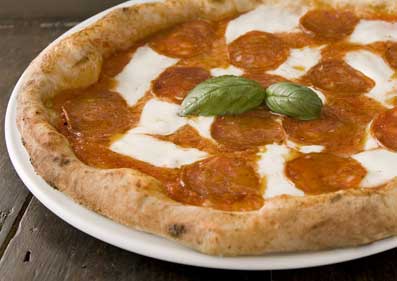 The manager of a pizza chain is so fed up with Londoners eating unauthentic Italian pizzas that he has launched a 'pizza amnesty' at his restaurants.
Simone Falco, managing director of Italian pizza chain Rossopomodoro, which has three restaurants in London, says he started the 'pizza amnesty' because he wants everyone to know what pizza from Naples really tastes like.
Falco said: "Let's face it, the quality of most pizzas in the UK is abysmal, they are nothing like real Italian pizza and companies should stop claiming that they are. It's pulling the wool over the eyes of the UK consumer."
Signor Falco says the amnesty will allow customers to taste authentic Neapolitan pizzas at no extra cost. Customers can bring their supermarket fakes into the restaurant and in exchange they will be given a free Rossopomodoro pizza.
All Rossopomodoro pizzas are made entirely from ingredients imported from Naples, including the water for the dough and they are made by chefs trained in the art of traditional Neapolitan pizza making.
The pizza amnesty will run until Wednesday 6 May (Monday-Wednesday only) in exchange for any pizza on the main menu, across all Rossopomodoro restaurants.