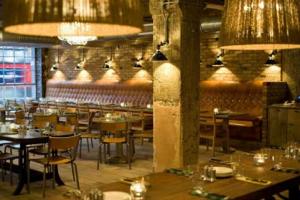 Pizza East staff will be dishing out samples of their 'Rollys' outside the tea building in Shoreditch on the mornings of on Monday 8, Tuesday 9 and Wednesday 10 March unyil supplies run out, enabling East London trendies to sample the goods.
The perfect guilty pleasure for the morning after can at last be eaten without shame. Pizza has long be a traditional hangover breakfast item, but instead a of cold, congealed takeaway from the fridge, Pizza East is offering piping hot breakfast pizza rollys and more.
The new breakfast menu comprises of a selection of rollys, pizzas, breads and pastries. Rollys, a pizza style wrap, are available with a selection of fillings such as 'sausage, pancetta, mozzarella and egg' and 'spinach, mushroom, ricotta and egg', priced at just £3.50 or £5 with a cup of tea or coffee. The full English breakfast pizza includes all the components of a classic breakfast and is priced at £4.
Two bruschetti are on offer with toppings including 'ricotta with Seville orange marmalade' and 'avocado and chilli'. The menu also features more traditional breakfast staples such as 'two poached eggs with tomato and prociutto' as well as 'homemade granola with honey'. A selection of pastries and breads are priced at £2 each or £5 for a basket of 3, with varieties such as cinnamon sticks, banana cake, pear muffin and apple turnover. Pizza East will open for breakfast daily from 7.30am during the week, and from 10am at the weekend.
Housed on the ground floor of the Tea Building, located on the corner of Shoreditch High Street and Bethnall Green Road in Shoreditch, London, E1, Pizza East is a new restaurant concept, launched in late 2009 by The Soho House Group. A modern take on the pizzeria, the menu features traditional and rustic ingredients, with a progressive approach and a commitment to sourcing seasonal and local produce.
Tea Building, 56 Shoreditch High Street, London E1 6JJ. www.pizzaeast.com