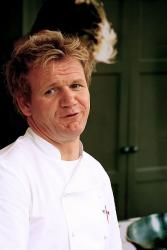 Gordon's at it again! Not content with the success of Ramsay's Kitchen Nightmares (Both US & UK), Hell's Kitchen (Both US & UK) and the F-Word, Gordon Ramsay is working on yet another TV show as we speak.
After the success of the search for 'Britain's Best Restaurant' on the last series of the 'F-Word', his new show 'Ramsay's Best Restaurant', will focus on a search for the finest Restaurants in the country, with the series culminating in the winner being crowned 'Ramsay's Best Restaurant'.
The nation's favourite foul-mouthed Chef will travel the length and breadth of Britain in search of the restaurants that deliver flawless cookery and wonderful customer service. Seeking out culinary heroes working in the kitchens and front of house at independent restaurants across the UK whose excellence deserve to be recognised.
There will be eight heats focusing on a different type of cuisine each time, including Italian, French, Indian and British categories as well as a Fine Dining category to boot. The pressure is on as the competitors could face anything in their heat, in the super tough semi-finals and in the head-to-head cook-off that is the series final. Only one contender can win the title, but who will it be?
Do you know a restaurant that deserves the title? Want to nominate your favourite local eatery? Then why not nominate them now? You never know, you're favourite local spot could make it to the final to be crowned 'Ramsay's Best Restaurant'.
To submit your nomination, visit www.bestnominate.com