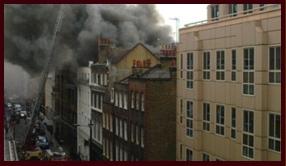 Soho's Indian restaurant, The Red Fort will reopen this February after it was ravaged by the fire that swept through Soho last July, which took 100 fire fighters over 12 hours to get under control.
It first opened 25 years ago and I remember it well. Stories abounded at the time that they put cream in some of their dishes! And that it was soooo expensive, at least compared to every other 'Indian' at the time. We listened to these stories, told to us by returning senior creatives from lunch, and gaped in wonder. Soon we promised ourselves, we too would be able to get the 'suits' to buy us lunch and then we would have it equally large.
I can't actually remember when I did finally go though, probably drunk I suppose. The cream was a bit of a revelation though. It didn't actually make the food taste any better, but it gave it a classy edge and allowed them to charge more. Many a food critic of the day was overwhelmed and fulsome in his or her praise.
Anyway, it's back in business. There will also be a discount of 50% off food available for all customers visiting in the opening week from Wednesday 3rd February until Wednesday 10thFebruary (available on a la carte for both lunch and dinner).
Head Chef, Azadur Rahman leading a team of highly experienced chefs has created a new menu in honour of the reopening. Rahman and his team of seven chefs have mastered the art of Mughal Court cooking over years. Starters on the new menu include Charcoal roasted potatoes filled with raisins, cashew, fig & royal cumin, Grilled monkfish marinated with saffron and cardamom and Scottish venison skewers spiced with cinnamon, nutmeg and pepper
Hmm, no mention of cream then
There is a traditional grill situated in the middle of the open plan kitchen and diners are encouraged to order some of the specialities which include Scottish lobster with saffron, garlic, cinnamon and nutmeg and Ostrich fillet with royal cumin, bay leaf and black pepper. Mains include King prawns, scallops, squid and stone bass in a cumin, cinnamon and clove sauce and Basmati rice with Welsh lamb and spices steamed in a sealed pot.
The Red Fort will also reopen its downstairs bar.