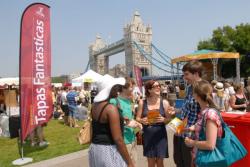 Now in its 4th year, Rioja Tapas Fantasticas will be returning to Potters Field Park, on the South Bank of the Thames, sandwiched between Tower Bridge and the GLA egg shaped building. Rioja Tapas Fantasticas is a free festival over the weekend of Saturday 25th and Sunday 26th June and at the event there will be 33 different wineries represented as well as a host of different Spanish restaurants and food producers. Running from midday till 8pm on the Saturday and midday till 6pm on the Sunday, visitors will be able to purchase a glass at the entrance with four tokens for £3 and will be able to exchange the tokens for samples of the wines on offer.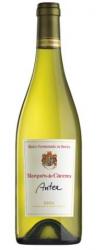 Tapas Fantasticas seeks to give us Brits a taste of a similar event that takes place in the Rioja region of Spain each year at which locals and visitors walk from one restaurant or tapas bar to another purchasing a dish and a glass of Rioja to complement it at each, a little like a modest gastronomic /wine safari.
I've recently tasted two of the Rioja wines that will feature at Tapas Fantasticas Marqués de Cáceres Antea Barrel-Fermented White 2009 and the El Coto Real Reserva 2004. The Marqués de Cáceres Antea has aromas of orange and yellow fruits as you bring it to your nose and as you taste it, there's quite intense fruity acidic citrus that has a nice tang. It leaves you with a great fruit length after you swallow and would be a good wine to pair with some fish tapas. I'm told that there'll be a tapas dish of monkfish and broad beans available and this might be just the wine you search out to pair with it.

El Coto Real Reserva has dark chocolate and dark fruits in its bouquet. On the palate dark fruits come through well, notably blackcurrant with blackberry flavours, giving it a fuller fruitiness. It's a medium bodied red with some acidity and a smokiness to it, there are medium plus tannins and it has a good acidic tangy smoky length. This would be an ideal pairing with more substantial dishes like the classic albondigas (meatballs) or any other strong red meat dishes.
I went along to Tapas fantasticas last year and got to taste some very good wines and some interesting and excellent food. It was a fun day out and certainly something you should consider putting in your diary.
For more information about the event go to the Rioja Tapas Fantasticas site