For four weeks from 15th April 2012, Street Kitchen's chef and owner, Mark Jankel, will be showcasing the very best of seasonal, organic British food, using ingredients solely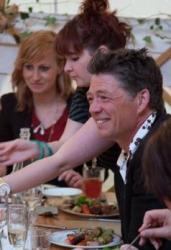 from Riverford Organic. Guests at this family-friendly event in Battersea will enjoy a generous two course meal and get tips on how to make the best of British produce from Mark himself.
The menu will vary each Sunday, depending on what's being picked in the fields on the Riverford Organic farms, but dishes might include:
Slow roast shoulder of lamb with caramelized onions and salsa verde
Roasted Jerusalem artichokes, beetroots and carrots
Custard tart with poached rhubarb
It will be a convivial, relaxed event where guests will share tables and pass the generous dishes to fellow diners. After all, great food tastes even better when you enjoy it with other people. Children are very welcome, and parents can sit back and relax while children's favourites Sharky & George provide the entertainment. There will be growing and planting games and lots more to keep the little ones occupied.
A two-course Riverford Sunday Lunch will cost £25 (children £9), with a range of tempting soft drinks, wine and beer available too. Sunday Lunches dates: Sunday 15th April, Sunday 22nd April (Press Day) and Sunday 30th April, Sunday 6th May. They will be taking place at Test Bed One, a new creative space located at 33 Park Gate Road in Battersea.