'This one will get you in a sweet mood', Hindustani saxophonist Jesse Bannister assures. Good- I need a dose of sugar after a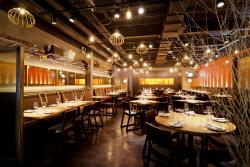 slurp of the companion's exceptionally tart Nimbu Sour, seasoned liberally with black salt. Yum, yum, and thrice yum. Coupled with the chaat masala-sprinkled plaintain chips, it makes for a very merry welcome to Roti Chai's weekly Monday supperclub.
My own'Gulab'- a rose petal vodka and lychee decoction- is slipping down a treat, too- almost as smooth as the Indian-style jazz set Jesse and guitarist Juliano are opening the evening with. This week's event is in conjunction with the London's Darbar Festival, the'Indian soul' menu offering a range of traditional soul-food dishes- Indian comfort eating, if you will. Great for a cold, miserable evening like tonight.
If you're unfamiliar with Roti Chai, think'Dishoom-lite'. A great escape from Oxford Street's haphazard pedestrians, it's felt little of the foodie hype of its near relative, yet delivers the same sort of no-nonsense menu and a level of studious 'undesign' that's funky rather than funking annoying. A brief scurry from Selfridges, it's also rather too central to have your vista spoilt by a hipster's latest asymmetric hairstyle.
In the downstairs dining room, the vibe is moodier than the canteen styling of the ground floor. Train carriage luggage racks, murky rivet-studded mirrors and bare light bulbs nod at shabby without going the whole'peeling-wallpaper' hog. The'supperclub' tag is perhaps rather gimmicky- really just a trend-led term for owner Rohit Chugh's themed set menus offering diners the chance to sample a bit of quirky'India modern' at a healthy price.
We start with pani puri (a'girly dish', declares the male companion, although was he that chose it). We sluice the stuffed crispy shells with tamarind water from the accompanying jug and shove'em in in a single bite- a serviceable classic. My own haleem is lovely- the lamb in the rich meat-and-wheat hotchpotch unusually kept chunky. Rohit says it suits London diners- unlike the invalids and toothless rulers dishes like this or galouti kebabs were designed for, most of us have our own teeth and prefer a bit of texture.
I've had my meat, then, and my soul's crying out for a bit of roughage. So the'Punjabi duo'- spiced chickpeas and aloo gobi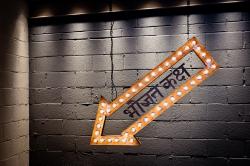 – is a no-brainer. The latter is surprising both in its use of potato wedges and the liberal sprinkling of viciously hot green chillies that lurk ready to ambush my wuss-y palate. The vibrant green sauce of the murgh saagwalla has picked up a pleasing smokiness from the tikka-d chicken, and plain, homestyle yellow daal, rice and roti keeps the whole meal earthy and, yes, soulful.
I like a 'proper' pud, so the Qubani ka Meetha edges out over mango kulfi only on the promise of a blob of clotted cream-like malai. I don't even like apricots. Bah. Oh, hang on, turns out I do. These are soft, stewed in a chai-spiced syrup, and punctuated with the bitter kernels. The boy's kulfi-on-a-stick is pleasant enough, but I'd prefer another Triple Charge cocktail- which tastes like nothing so much as a melted, old-fashioned Rocket lolly.
Supperclub, theme night, set menu, call it what you will- Rohit's hit upon a nice little series of foodie evenings. If you're up for a bit of tongue-in-cheek humour and witty fusion-confusion the'Masala mac'-yes, an Indian spin on macaroni cheese- evening will come as a welcome treat, whilst weeks devoted to Diwali and Christmas get the festive spirit flowing. What the Samsara-'cycle of life' menu will deliver is anyone's guess- chicken and egg dishes, perhaps?- but that's all part of the fun. Roti Chai– one to try.
Roti Chai, 3 Portman Mews South W1 www.rotichai.com
 For details of forthcoming supperclub menus, email supperclub@rotichai.com