30-31 Clerkenwell Green EC1R 0DU Dans Le Noir
Ah bonjour mes amis and welcome to a review of a restaurant that is a little different and has a certain'je ne sais quoi' about it. Actually to be perfectly honest I know exactly what makes it so different, the whole bloody place is unlit. Dans le Noir is a theatrical dining experience conducted completely in darkness.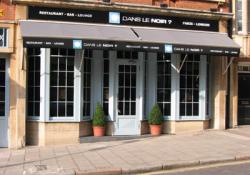 Nestled into a side street in emerging Clerkenwell, no more than a few hundred metres from Farringdon Station, Dane le Noir stands proudly and competes in this highly desirable location. The building looks a little spooky from the outside, you certainly get the impression that behind the front door there's something quirky.
Meeting Nancy at Farringdon Station put a smile on my face. I hadn't told her that we'd be eating in a pitch-black dining room and to prepare for the worst, so, inevitably, she arrived in beaming white from head to toe and could easily have been cast for a Daz commercial on the spot. Yet, like a true Aussie party chick, she was more excited about the concept of the restaurant and couldn't give a XXXX about her outfit.
The restaurant seats roughly 60 people in total and booking ahead is advised as this is the only Dans le Noir in the UK. Upon entry you're asked to choose a coloured menu: white menu for chef's surprise, blue menu for fish, red for meat and green for vegetarian. That's as far as it goes for understanding what you'll be eating – the dishes and ingredients are a mystery until the end of the meal and I should point out now that I will not be disclosing any spoilers.
As we're led along the corridor to meet our guide, Ashar, who is completely blind, the corridor becomes darker and darker and my mind trips back to days of lazer quest. I'm excited and feel the butterflies building, but more for the experience than the anticipation of good food. Ashar leads us one at a time by hand to our dining table. The initial feeling is completely bizarre. I'm convinced that I'll knock something over or trip on something but I settle into my seat and we meet our neighbours, Ian and Allison.
The room seriously is pitch black – all phones, watches, cameras and anything else that may produce light or glow in the dark must be removed and placed in lockers in the reception. Allison and Nancy listen to Ian and I apologise and laugh with one another after our autopilot attempt to shake hands goes completely wrong. It's amazing how many actions you take for granted that rely upon your vision. Ashar delivers a jug of water with two glasses to the table and insists that we "help ourselves", which of course means Nancy dives in to have first crack and soon the dining table becomes a swimming pool.
It's good to get to know the diners next to you and soon we're deep into a game of trying to describe how each other look. Ashar continues to bring courses over that we enjoy eating, but without the first bite of the eye in terms of presentation and creating that pre-tasting fire in the brain through sight, it's a little tricky to comment any further than the food being'nice'. On numerous occasions I find that I'm using my fork the wrong way round, whilst Nancy demands I "stop being a girl" and use my hands like her. You don't need a spoon you little ripper.
With prices starting at around £40 for two courses, wine not included, some may consider the restaurant to be a bit pricey but you have to take into account that it's the theatrical experience which makes the evening a hit. Eventually you do find out what you've been eating when you enter the bar and see the revealed menu. We also got to see what Ian and Allison looked like as well, a cracking young couple who had stumbled across the experience on the Internet and were intrigued by the concept.
There isn't much point coming into this experience with high expectations of being bowled over by a culinary master-class. The food and wine are pleasant, but the x-factor is the concept, it's food theatre and not at Heston prices. Nancy, Allison, Ian and I all thoroughly enjoyed our time with the girls being a little teary at the end when Ian lowered to one knee and turned Allison from his girlfriend into his fiancée.