I'm sitting spinning a lazy Susan laden with brimming bowls of Madhu's finest curries, chewing my shami kebab in time to the still-sprightly vocal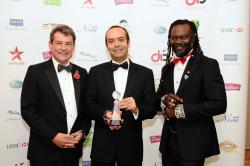 stylings of Carl Douglas. Yes, the celebrated one-hit wonder behind'Kung-Fu Fighting'. Surreal- even more so when Levi Roots bursts into'The Reggae Reggae Sauce Song' ahead of handing Jose Pizarro the award for Restaurant of the Year for Pizarro's. Welcome to the World Food Awards.
It's a bash and a half, taking over the swanky Lancaster London with a Champagne reception, Jaguars (the car, not the big cat, although it wouldn't surprise me) and an Indian wedding's worth of food. Attending the ceremony is a revelation- I had no idea, for instance, that Taywells- that lovely Kentish company famous for quintessentially English fruity ice creams- was also behind Feng Sushi's Asian-inspired frozen delights.
Or that former Atomic Kitten and Celebrity Masterchef winner Liz McClarnon was working on a curry cookbook. That explains her presence as guest presenter, at least. I'm still working out the reason for posh Ben from'Big Brother' being here. Or, quite frankly, existing. But I digress. To his credit, he does a lovely job of appreciating the beautiful lady from Tilda Kids' achievement over the presentation of Food Product of the Year.
Poor old Levi must be glad he got his plug in early- he's shortlisted for Marketing Campaign of the Year but is understandably overlooked in favour of Vita Coco and their tried-and-tested combo of'Well Famous Rihanna' and'Not Many Clothes'. Bollywood bigshots also lend ballast- evidenced as the owner of ShahRukh Khan's favourite Surrey curry venue, Chak89, is crowned Entrepreneur of the Year. One's actually in the house, too- Ash King treats us to a few of his most blockbusting hits.
The World Food Awards ceremony rams home the notion that diverse world foods are increasingly and properly proliferating our cupboards at home. Much as it's great to gleefully guzzle your way round one of London's street-food dominated global gourmet gatherings, it's equally cheering to festoon your shelves with Polish pate, Bangladeshi breads or Caribbean chutney from the local Asda or Tesco. Tonight, we celebrate being British, being diverse, and having the whole damn world at our culinary disposal.
For more information on the World Food Awards, visit worldfoodawards.com