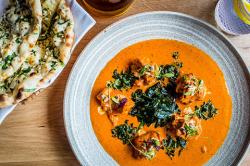 To celebrate Diwali, the Festival of Lights, award-winning Roti Chai and newly opened Chai Ki will be hosting a fortnight of feasting. From the 9th – 21st November, both restaurants will be presenting tasting menus to be enjoyed against a backdrop of traditional diya lanterns.
At Roti Chai, tables will be heavy with Schezwan Chilli Paneer, Butter Chicken and 16-hour slow cooked Welsh lamb shank'Raan e Baluchi' alongside stacks of Naan and fragrant Basmati rice. The festival menu at Chai Ki will feature signature dishes; Coconut Prawns with curry leaf and seaweed'podi' and black lentil'Dhal Fry'. Sweets are the hero of Diwali and both Roti Chai and Chai Ki will offer Malai Cheesecake, with vanilla-infused pineapple jam.
Exclusive to Chai Ki's drinking den, Toddy Shop, for the month of November will be a special of'Achari' chicken kari, with warming pickling spices, turmeric, mustard seeds and fennel.
To toast India's brightest festival will be the'Pataka' cocktail, Hindi for firecracker, with berries and coconut'toddy' arrack; a refreshing'Diwali Punch' with pineapple, ginger and gin and Lychee Teapots, to share, spiked with chai spices, cinnamon and vodka.
Founder, Rohit Chugh recalls,'As kids, Diwali meant that Christmas did come early for us with presents and get-togethers with friends and family. Causing mischief and lighting fireworks was great fun, but most important was food and plenty of home cooked favourites. With those family feasts the source of my inspiration – I'm looking forward to sharing Diwali festivities with our guests'.   
Diwali Tasting Menu:
Available at Roti Chai and Chai Ki for dinner from 9th – 21st November
£35 per person, including a welcome cocktail
Chai Ki
1 Crossrail Place
London E14 5AR
Opening Hours for Chai Ki restaurant
Dinner Monday to Saturday, 5.30pm – 10.30pm (last orders)
Opening Hours for Toddy Shop Bar at Chai Ki
Monday to Friday: Breakfast 7am – 10.30am; Bar Menu 11.30am – 11pm
Saturday: Breakfast 10am – 12pm; Bar Menu 12.30pm – 11pm
Sunday: Breakfast 10am – 12pm; Bar Menu 12.30pm – 10pm
Chai Ki takes reservations in the restaurant and bar, available on 020 7408 7630 or info@chai-ki.com
@ChaiKiLondon
Roti Chai
3 Portman Mews South
London W1H 6AY
@RotiChai
Opening Hours for Street Kitchen:
Monday – Saturday: 12pm – 10.30pm (last orders)
Sunday: 12.30pm – 9pm (last orders)  
Opening hours for Dining Room:
Monday – Saturday: 5.30pm – 10.30pm (last orders)