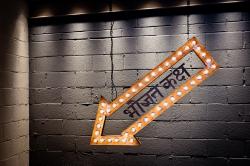 To mark its first birthday, Roti Chai is hosting a series of Monday evening Supper Clubs in its Dining Room with the emphasis firmly on having some fun.
Since launching late last year, Roti Chai has established both its Street Kitchen and Dining Room, with their distinctly different vibes and separate kitchens, as restaurants each in their own right – with a loyal following and profile guests including amongst others the likes of Sachin Tendulkar, Alan Yau, Georgio Locatelli and Madhur Jaffrey.
The all-day diner-style Street Kitchen serves traditional Indian street snacks and rustic'Road & Rail' curries, whilst the brasserie-style Dining Room is open for dinner with a Modern Indian menu of Street inspired small plates and contemporary takes on Regional and Seasonal specialities from across the Sub-Continent.
The ethos at Roti Chai is all about innovative honest well-executed menus, which have involved owner Rohit Chugh and his team trialling hundreds of dishes to find the right balance and blend. The new Monday evening Supper Clubs allow the Roti Chai team to showcase a whole range of new dishes and menus and to, now and again, have some real fun and to try out something a little different.
Each Monday Supper Club will feature a menu inspired by the diversity and creativity of Indian festivals, regions and home-style recipes'borrowed' from family & friends.
Diwali is the most auspicious date in the Indian calendar – traditionally a time for goodwill, family and looking forward to a New Year. Roti Chai's Supper Clubs officially launched in Diwali week with a Choti Diwali ('Little Diwali') menu featuring celebratory dishes such as warming Toddy Shop Cinnamon & Chilli Chicken.
In December, the Supper Club menus turn to Christmas specials from the Christian regions of India with dishes including Keralan Duck Roast with Kappu Puzhukku (spiced cassava mash) and tangy spicy Portuguese influenced Goan Pork Vinha d'Alhos.
3 Portman Mews South, London W1H 6HS
STREET KITCHEN | Open all day Monday to Sunday, 11.45am to 10.45pm
DINING ROOM | Open for dinner Monday to Saturday, 5.45pm to 10.45pm