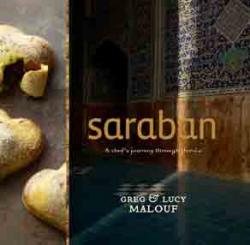 Join Greg Malouf, widely acclaimed as the master of modern Middle Eastern cooking, and a regular guest chef in restaurants across the world is taking his new book Saraban on a food tour. Saraban explores one of the world s earliest and greatest empires and is an unforgettable journey through the culinary landscapes of ancient Persia and modern-day Iran.
Dock Kitchen Dinner
Monday 7th February 2011 – from 7.00 pm
Greg Malouf will join head chef Stevie Parle and his team in the kitchenwhere they will prepare a Persian feast of dishes inspired by Saraban. The Dock Kitchen will then run the Persian menu for the remainder of the week. £35 per head for 4 courses not including drinks.
Bookings – 0208 962 1610 or via the Dock Kitchen website
www.dockkitchen.co.uk
Books for Cooks Lunch
Tuesday 8th February 2011 €" from 12 noon Greg and Lucy will be hosting the Tuesday Vegetarian Lunch service at Notting HillÂ's famous cookbook shop. £5 per head for 2 courses not including drinks Bookings €" not taken, tables are allocated on a first come first served basis. They are always full.
www.booksforcooks.com
La Fromagerie Talk and Dinner
Tuesday 8th February €" 7.00 pm
A seasonal Saraban-inspired menu at the stylish and unconventional La Fromagerie in LondonÂ's Marylebone. Greg and Lucy will host a feast-like dinner with a short talk on their journey through modern-day Persia. £65 per head includes accompanying wines Bookings €" via La FromagerieÂ's
website www.lafromagerie.co.uk
Fortnum & Mason Talk and Evening Demonstration Wednesday 9th February 6.30 €" 7.30 pm During an hour-long evening event at LondonÂ's centuries old, quintessentially English store Greg will show guests how to recreate his favourite Persian dishes using ingredients from the Food Hall at Fortnum & Mason.
£15 per head
Bookings – 0845 602 5694
www.fortnumandmason.com
The Saraban Reception
Thursday 10th February €" 7.00 pm
An evening talk & reception with the Iran Heritage Foundation at Made in Camden at the Roundhouse. Greg and co-author Lucy will relive their journey through the kitchens and dining rooms of modern day Iran following which Made in Camden Head Chef, Josh Katz and team will prepare some Saraban inspired light bites.
£15 per head
Bookings €" via Made in CamdenÂ's website
www.roundhouse.org.uk/whats-on/productions/a-chefs-journey-greg-lucy-malouf
Petersham Nurseries Demonstration and Tasting Saturday 12th February €"
Morning Demo SOLD OUT. Lunch €" from 12.30 pm. Afternoon Demo – 3.30pm A talk, tasting and cooking demonstration by Greg and Lucy. Following the morning event, Petersham NurseriesÂ' Head Chef Skye Gyngell will cook a lunch menu based on recipes from Saraban. Price £35 for the demonstrations and tasting or £65 for lunch Bookings – 020
8605 3627 www.petershamnurseries.com