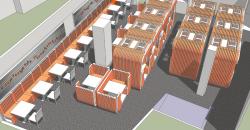 Currently undergoing an extensive refurbishment Satsuma, Soho's urban-style Japanese restaurant, is set to officially re-launch on 1 September 2011. The complete redesign will include pod-style seating for up to four diners. We are told that the pods will be enclosed on four sides with windows in the roof to allow in subtle lighting. Set on two floors, the pods as well as open plan tables will be available on both levels. We also understand that in introducing the new style seating the restaurant will retain Satsuma's signature colour scheme of orange and grey, they will also keep their floor to ceiling glass frontage.
To go with the new look Satsuma's authentic Japanese cuisine will shift its focus to specialise in Japanese Katsu curries. The new menu will invite guests to "build your own" Japanese Katsu curries. Their sauce bases for curries will come in regular and spicy, to which diners can add their choice of meats, fish and vegetables. We are also told that as a challenge, those brave enough to select the 'Explosive" Katsu sauce and completely finish the dish, will receive their lunch or dinner for free, excluding drinks. We're sure there'll be several who'll rise to the challenge!
Diners who visit the restaurant during the two week soft opening period, from mid-August until 31 August 2011, will receive 25% off the total food and drinks bill. So if you want to take advantage of this discount you should plan to get yourself along there.
Satsuma, 56 Wardour Street, London W1D 4JG www.osatsuma.com