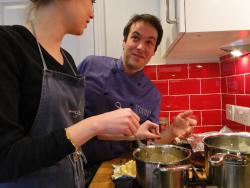 There is another option to booking an expensive restaurant carte this Valentine's day: learn to cook a delicious and romantic three act supper for your partner with School of Food. It's a fresh, new cookery school which comes direct to your own kitchen.
In just two hours you will gain the confidence to produce a menu featuring classics such as stuffed and grilled oysters, pan-seared hangar steak and a decadent, chilli chocolate pud. The tutor brings all the ingredients for the class and recipes and class notes are provided so the delicious dinner can be perfectly recreated on 14 February.
Not only will couples have a personal chef on hand who will give the best insider tips how to quickly prepare a flawless meal, but the chef will even help to clean down the kitchen following the class.
As always with School of Food's cookery classes, the emphasis is on fun rather than slavish adherence to recipes. The ingredients are of high quality, and great care has been taken to creating an unforgettable menu.
This menu is part of a range of School of Food two hour dinner party classes. Prices range from £50 to £75pp depending on the number of participants.
For more information: www.cookeryschool.com
(Pictured, Alastair Instone, founder and main tutor, School of Food with a star pupil)