If you subscribe to the Valentine's Day hype but you haven't already planned a romantic treat for your significant other, fear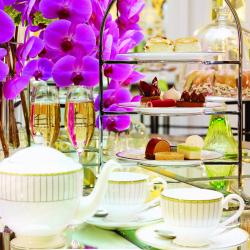 not, mid-February hanky-panky can still be assured. Corinthia Hotel's'Sensual Afternoon Tea' is not your average, doing away with any images of stale Women's Institute fundraisers. You may not be convinced of the raw seductive power of a cup of Oolong and a jammy scone, but on this occasion, you'd be wrong.
The sensory arousal begins immediately, a nasal assault from perfumer Roja Dove's bespoke scented candles putting you firmly in the mood for love. Tea is served in Corinthia's Lobby Lounge, beneath a giant orb of glimmering Baccarat crystal. The candle takes a few minutes to get going, but by the time our glass of Laurent-Perrier Rose Champagne arrives, cupid has fired his Vanilla Bourbon-scented arrows into the air.
As is the custom, we begin with a dainty selection of finger sandwiches, carefully cut into neat rectangles. I scrutinise the edges of each sandwich in search of any trace of that scourge of the afternoon tea; crusts. Thank goodness, they have all been skilfully removed – that could have seriously affected my Valentine's mojo. The fillings are conventional but of a high quality, making for a tantalising taste of things to come.
As our plates are cleared, I survey the room to see whether the Roja Dove candles are having a demonstrative effect on my fellow diners. A young couple are staring into each other's eyes, wearing dreamy smiles; opposite, an elderly couple hold hands and share a quiet joke. Candle or no, there's definitely something in the perfumed air. Fearing sensory overload, I play it safe and order good old-fashioned English Breakfast over one of Corinthia's more exotic brews.
They might proclaim'size doesn't matter', but the five-foot tiered stand that displays an impressive array of Valentine fancies says otherwise. Each miniature dessert is an intricate little sculpture served on delicate art-deco designed china. A ball of'black forest' chocolate mousse is given a red velour finish; a Champagne foam tops a fresh lychee jelly shot; candied petals here, tiny marshmallows there. Nice for the eyes, even nicer for the mouth.
Sad as it is to destroy things of such beauty, one by one, the little works of art are devoured. An éclair filled with a lavender
cream and an almond and pistachio dacquoise scattered with tiny cubes of fresh strawberry are the standouts. The obligatory scones are dainty, fluffy specimens, served warm with clotted cream and strawberry and raspberry preserves – not overtly romantic, but non-negotiable within the convention of the'proper afternoon tea'.
It's a common trick at this time of year to simply slap the word'Valentine's' on an existing set menu and charge customers a few extra quid for the privilege. But with the Corinthia's'Sensual Afternoon Tea', there's been a genuine effort to conjure romance. It works, too; my partner and I both agree the food and the candle have made us feel relaxed, happy and, dare I say,'ready for love'. In fact, it's so effective that next time, I might just bring my girlfriend.
Corinthia Hotel, Whitehall Place, SW1A 2BD, www.corinthia.com
The 'Sensual Afternoon Tea' is available until 17th February inclusive. For more information and to book, visit www.corinthia.com