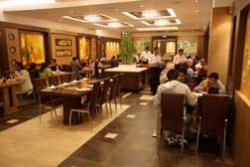 Across the road from Neasden's Swaminarayan Temple is Shayona, a contemporary, Indian restaurant serving sattvic vegetarian cuisine from across the whole of India. Shayona's menu offers thalis from Gujarat and Rajasthan, curries of North India and the Punjab and Mumbai street dishes. Visitors to the temple, families and local residents have been enjoying Shayona's sattvic cuisine for two years.
Shayona has recently introduced a new menu. To keep long-standing patrons happy, classics such as mushrooms stuffed with paneer and cauliflower; soya mince curry; Maharaja-style paneer with saffron; and dahl makhani are still on the menu. These old favourites are now joined by baby aubergines stuffed with spiced, smoked aubergine purée; aubergine bharta with peppers and peas; and baby new potatoes in a low-fat yoghurt sauce. Light meals such as the southern Indian dosas and idlis are also available, plus a wide selection of drinks such as lassi, faluda, vaghareli chhas (spiced, salted buttermilk) and juices.
Chef Bachhi Ram likes to consider new aromas, new blends of spices and uses of fresh ingredients when planning his menu. He enjoys fusing the ingredients to create something new for the palate, whilst maintaining the traditions of Indian cooking.
With the growing popularity and scarce availability of vegetarian restaurants, Shayona is perfect for any vegetarian or vegan looking to try a sattvic diet. Sattvic food, according to various schools of thought (Ayurveda, yoga, Jainism, Vaishnavism and Swaminaryam amongst others) is considered to be pure and balanced in terms of origins, properties and effects on the body. Foods included in this diet include vegetables, fruits, grains, pulses, nuts, most dairy (milk, butter, cream, cheese, yoghurt, ghee), mild herbs and spices, and sometimes raw honey and sugar. The foods disallowed from this eating regime are caffeinated drinks, hot spices, chocolate, alcohol, meat, fish, eggs, onions, garlic, stale or over-processed food.
Eating at Shayona promises to leave you feeling your best, so if you're searching for a restaurant that complements your lifestyle or simply looking for delicately spiced, fresh Indian cuisine, Shayona should make a great night out.