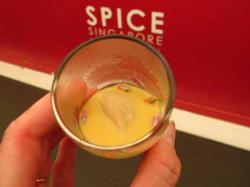 Any meal that begins with pudding is off to a perfect start, in my opinion. So Janice Wong of Singapore's 2am: dessertbar was already in my good books as I dug into my first forkful of her 'Chilli Chocolate Coral"—a reddish chunk of soft, creamy and surprisingly spicy cocoa laced with peanut butter—served as an appetizer at a recent seven-course lunch.
I wasn't in Singapore, alas, but beneath a white canvas tent on London's South Bank, sheltered against gray clouds that advanced like a menacing meteorological armada along the Thames. The occasion? The launch of SPICE: Singapore International Culinary Exchange.
While Singapore's tourism authorities apparently can't import tropical sunshine, they do aim to introduce their country's cuisine to taste buds around the world on a tour that began in London on 10 June and now moves on to Paris, Moscow, New York, Hong Kong, Shanghai, Delhi, and Dubai before wrapping up in Sydney on 1 April 2012. In each city, a different celebrated Singaporean chef will be partnered with local talent, who will offer complimentary tastings and perform cooking demonstrations from their headquarters in a compact mobile kitchen no bigger than one of those camper vans where you might have spent many a happy—if cramped—family holiday as a child.
When I first glimpsed the kitchen, it was closed up tight like a corrugated metal shipping container. But as unseen speakers belched forth a jazzy tune, the front panel began to descend. I half expected Jedward to jump out in mushroom-shaped chefs' hats and matching checkered trousers amidst a laser-lit haze.
But perhaps the organisers decided that the sight of smoke billowing from a kitchen would unnerve their invited guests, and Jedward might put us off our feed altogether, as we were greeted instead by friendly waves from Wong and Peter Gordon, who has brought his brand of fusion cuisine to London with The Providores and Tapa Room in Marylebone Village and the new Kopapa near Covent Garden.
'I'm doing street food with a slightly refined twist," explained Gordon, whose broad vowels belie his New Zealand roots. 'We're just having a bit of a laugh," he added, a grin parting his salt and pepper beard. 'We're going to steal all of Janice's ideas."
'My philosophy is about the balance of flavour and texture," said the soft-spoken Wong, who studied as a pastry chef at Le Cordon Bleu before continuing her training in the kitchens of Wylie Dufresne's WD50, Grant Achatz's Alinea, Thomas Keller's Per Se, and Will Goldfarb's Room 4 Dessert.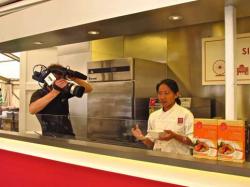 'Art can be on the plate," insisted the petite, 20-something wunderkind, who opened 2am: dessertbar in 2007. 'It's just a different way of playing with food."
To strengthen her 'artistic palette," Wong even resorted to a bout of self-inflicted blindness. For 72 hours, she wore medical bandages over both eyes, completely blocking out the light. 'When you lose one sense, the others get stronger, and I really wanted to push boundaries, to push my imagination," she said. But it wasn't easy, Wong admitted. 'The second day, I thought I was going crazy. Once, I smacked into a wall, and I was bleeding. It was very mentally tiring. But I also spent some of the best hours of my life sitting on my hammock, letting my mind go. You create your own world."
At this particular lunch, she and Gordon created a whole universe of flavours. Wong's lemongrass infused Laksa tiger prawn dumplings, served in curry broth garnished with blossoms, were whisked down in a shot glass, lending them an air of barfly decadence. And I confess, I might have groaned with something approaching animalistic ecstasy when I inelegantly gobbled Gordon's delicious deep-fried pork belly–tender and salty after bathing in spicy brine for 24 hours, served atop a bed of rice with peanuts, cucumber and chilli roasted pineapple.
But despite these dalliances with protein, the day belonged to dessert. Together, Wong and Gordon seemed determined to induce a mass diabetic coma among their diners, as they dished up four different puddings between them. (Considering that I possess a sweet tooth the size of an elephant tusk, this seemed a reasonable menu to me).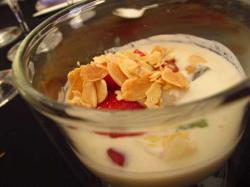 Gordon offered a rich, creamy pandan ginger tapioca served with Oloroso sherry, coconut cream and enough healthy bits, like lychees, strawberries, and fruit juice jelly, to convince me that I had ticked off my 'five a day." Wong's piece-de-resistance was her 'Popcorn Nostalgia," which snaked across a piece of slate, anchored by sweet popcorn-flavoured ice cream at one end and salty popcorn-flavoured ice cream at the other, accompanied by yuzu parfait and salty caramel. Naturally, this was followed by…more dessert, with Wong plying her guests with a few final bites of cake, topped by flower petals and served on a driftwood platter.
'How was it?" Gordon asked afterwards. 'Better than sex!" someone shouted, to a chorus of cheers. 'Oh dear," the chef replied in mock dismay, pressing a hand to his bristly cheek. 'Better find another partner."
But we were well beyond blushes by that point. My dining companions and I were merrily nudging at social mores, fueled by a collective sugar rush and Wong's libertine attitude towards dessert—served anytime, anywhere, as any course.
But why, the tiny instigator protested, should we be bound by an arbitrary convention that maintains we have our protein before our pudding? 'Imagine if your mom were to feed you toffee pudding before you had your rice," Wong shrugged. 'Between sweet and savoury, for me there is no difference. There is no rule to eating."