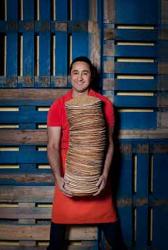 On Thursday, 29th October Arun Kapil, founder of award winning spice company, Green Saffron will host a Spice Night at The 3 Crowns Old Street pub. Cooking alongside Head Chef Lee Urch, Arun will create a 5-course menu making the most of Green Saffron's fresh, vibrant spices.
The Spice Night will celebrate Arun's unparalleled knowledge of spices adding depth and flavour to dishes and surprising the palate with unexpected flavour pairings.
The evening will begin with canapés of Venison Tartar with crisp bread,'Gol Guppa', tamarind water & spice and Artichoke Croques. This will be followed by a Spiced Butternut and Autumn Leaf Salad, slow-cooked Burford Brown egg and shaved raw chestnut.
Guests will next enjoy Cornish Cock Crab Cakes with sweet cucumber pickle, Rajputi'split and grilled' Red Leg Partridge, damson & bramble'lunji' and chickpea game chips finished off with Triple Chocolate Meringue Cream Pie, garam biscuit, pistachio & rose.
A digestif, created especially for the evening will be'Mishri and Soonf' a traditional Indian'Paan' of baby fennel seeds and sugar crystals.
The 3 Crowns menu has seasonality and provenance at the heart, serving a menu of updated British and European classics in the restaurant, and a more informal menu of bar snacks alongside craft ales and cocktails in the pub. Urch's experience spans over ten years working alongside Quo Vadis Head Chef, Jeremy Lee.  
Arun Kapil's'Spice Night' at The 3 Crowns – Thursday 29th October, from 7pm
Price: £45 p/p with wine pairing £65
To book, please contact The 3 Crowns on: 020 7842 8516
The 3 Crowns
8 East Road,
Old Street,
London N1 6AD
Arun Kapil is a spice expert and cook who honed his skills at Darina Allen's prestigious Ballymaloe Cookery School and in London kitchens. Based in Ireland, Arun founded the multi-award-winning spice company Green Saffron in 2007, supplying the top chefs and restaurants in the UK with spices sourced by Arun's family based in Moradabad, just outside Delhi, from small farms in India. Arun regularly appears on Ireland's most popular television network, RTE, as well as alongside food personalities such as Richard Corrigan, Rachel Allen and Paul Hollywood on Channel 4 and BBC Radio4 including Cookery School and The Food Programme. Arun's first book, Fresh Spice was published in October 2014 by Pavilion Books.