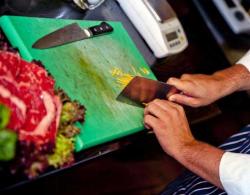 Jean-Georges Vongerichten's London restaurant, Spice Market, has introduced an exclusive monthly masterclass programme. Guests will now have the chance to learn the secrets behind some of the restaurants' best and most successful dishes, under the tutelage of Executive Sous Chef Brett Crowe.
The first masterclass will take place on Saturday 24th September from 12pm – 3pm and will cost £80 per person. The sessions will start with an informal brunch before heading off into Chinatown to shop for ingredients with Chef Brett, Jean-Georges' right-hand man. Guests will then head back to the restaurant where they will enjoy a cocktail before learning how to prepare signature dishes such as Salmon Tartar with Avocado, Spicy Radish and Ginger Marinade, Charred Sirloin with Soy, Garlic and Coriander and Thai Jewels and Fruits with Crushed Coconut Ice. Groups of no more than ten budding cooks enable Chef Brett to spread quality time with each guest, passing on unrivalled information and tricks of the trade.
Crowe transcribes Spice Market's complex recipes into a format suitable for home cooking, without losing the flavour, style or wow-factor. Wine matching the dishes will be served as the guests taste the fruits of their labour before heading home with a Spice Market gift bag.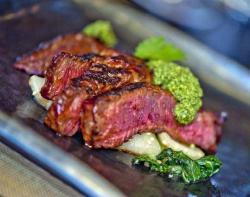 Brett Crowe, 30, trained at the Culinary Institute of America in Hyde Park, New York, before working at fine dining French restaurant Everest in Chicago for two and a half years. Travelling across America, Brett worked under Head Chef Michael Mina at French-Asian restaurant Aqua in San Francisco and in Ohio at German restaurant Mecklenburg Gardens before moving to New York. Brett has worked for Jean-Georges Vongerichten for four years, starting at the three Michelin star restaurant Jean Georges in Trump Towers Manhattan.
Brett's recognisable talent enabled him to move quickly to senior positions, before heading to London. Brett specialises in cooking Asian-inspired cuisine using French techniques that he has perfected over the years.
The masterclass is the ultimate South East Asian-inspired cooking experience, taking guests on a culinary journey based on ideas from one of the worlds greatest chefs. The cuisine at Spice Market is Jean-Georges' interpretation of the street food experienced during his many trips across South East Asia and this can be seen across all of his menus at the restaurant. Guests can enjoy a variety of fusion dishes presented across different menus, offering something for every taste.
For further information or to book a place in a class, visit www.spicemarketlondon.co.uk.
Spice Market
W London – Leicester Square
10 Wardour Street
London W1D 6QF