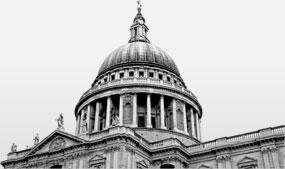 The Restaurant at St Paul's is paying homage to that beautiful British dish of baked batter, the Yorkshire Pudding, in celebration of British Yorkshire Pudding Day on 7th February 2010.
Serving a specially crafted menu, courtesy of head chef Candice Webber, devotees of this treasured delight, dating back from the 18th Century, may choose a Yorkshire Pudding creation across all three courses of their Sunday lunch. If you thought Yorkshire Pudding could only be served with beef and gravy, think again…
Begin with a wonderfully different starter of Yorkshire Pudding with Wensleydale & spinach, before indulging in a classic main of 'Toad in the Hole' with homemade Yorkshire Pork sausages. For those with the courage to continue, a Yorkshire Pudding comes with a choice of jam, treacle or clotted cream as a delicious alternative dessert.
A selection of Candice's modern British favourites are also available to mix and match.
The British Yorkshire Pudding Day Lunch Menu
is available on Sunday 7th February, 12 noon – 4pm
To book, please call the restaurant on 020 7248 2469
The Restaurant at St Paul's
St Paul's Cathedral, St Paul's Churchyard, London EC4M 8AD