Street Feast has been all the rage in trendy Dalston for the past five weekends. With a final weekend of street food left, Marcus checks it out and find out whether it's worth a visit.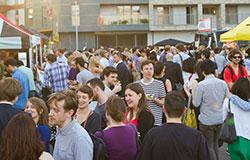 Street Feast is, without doubt, a committed foodie's dream. In fact, even if you're not a hardcore committed foodie, this is bloody brilliant. Obviously plenty of people are aware of Street Feast but, if you're not, you ought to be because these guys put so much hard work into throwing outstanding events that allow you to sample some of the best street food brands possible at one time. Their current venture is at Hawker House in Dalston.
It seems there's this underlying theme of hibernation throughout winter for the street food vendors. It's cold outside and despite all of us average Joes wandering around the cold streets thinking,'ah, hot food, that's just what I need', it's still a bit mean on the vendors who wont be able to escape the cold for hours if they're positioned outside.
Simple way round this… Take one huge venue, blend with some of London's best street food brands, add a dash of unique bar concepts, lace with some good music and finish with a dollop of epic vibe. That's the badger. This is how you creatively use your brain to organise and operate a really good event.
Weirdly enough you somehow don't notice the building. There are times when you notice the odd fixture and finish here and there, especially if you go up to the little balcony platforms where the roof is a little lower, but the venue is bare essentials and rustic. It's a massive old warehouse, but the attention is on the colourful brands dotted around the outside and the smiles on the faces of the stuffed people chatting away and taking it in turns to get the next round of bites and drinks.
I've got no time for anyone trying to make a quick buck or exploiting people, that stuff makes me pretty angry. It's tempting to sell-out and bring in huge brands or tip the scales in favour of your preferred vendors when it comes to portion sizes and prices, but Street Feast founder Dom is an absolutely top bloke. He's not gone for the easy option of taking a pile of cash from an established restaurant chain to throw starters at people; instead, he's carefully selected the people who serve good food, who bring that little something extra to the occasion and who don't clash with each others' menus. Fair play, Dom, you're a diamond.
Let's start with Morito, which you'll have missed now but it's the street kitchen of Moro on Exmouth Market. They've got a soft lamb chop that's exceedingly juicy. Perform a look up and hook up. Well worth it. Fancy something spicier? I did, since I'm a Brummy and all, and Rola Wala packs a scorching punch with a bite-size portion of venison vindaloo on a saucer-plate sized naan bread.
There's a not-so-hot option at Rola Wala, but if you've had your mouth singed with spice then cool down at Sorbitium. These ice-cream bad-asses completely hit the nail on the head when it came to the wow factor. I'm not a dessert guy at all, but honestly, I've not had a tub of ice-cream or sorbet that nice in a while.
Meat-lovers can get their mits messy thanks to Smokestak, who brought along a huge outside smoker that entertains the late-comers who are queuing. Otherwise, if burgers are more your thing, Slider Bar is producing some really tasty recipes and their neighbours, Breddos Tacos, have more meat in crispy shells rather than the soft buns.
Two little special mentions ought to go out to Yum Bun for a cracking steamed bun option and B.O.B's Lobster not only have an awesome lobster brioche roll, they also have the funkiest Camper Van that I've seen in ages. Themed amazingly, these guys really caught my eye and I'm gutted I didn't push harder to walk-off with one of their foam fingers from the display.
I know I've missed one or two out, but the vendors constantly change because Dom's giving everyone an equal shot at business. New arrivals Mama's Jerk Station and Luardo's are already tempting me to go back. Rotary Bar freshen the palette with some cheeky cocktails at their bar, whilst Street Vin supply some top vino for those wanting to slowly unwind at their leisure. Go for the love of street food, stay for the crowd of awesome people, but be quick, there are just a couple of days left.