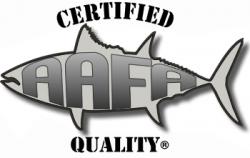 We reported back in August that canned sustainable American Albacore tuna was now on sale in the UK. On Wednesday 30 September 2009, the first 'global Sustainable Seafood Lunch' will take place to help promote this style of fishing. From the US to New Zealand by way of the UK, individuals, restaurants, caterers, local authorities, businesses and even airlines will be joining forces with the Marine Stewardship Council (MSC) to highlight the availability of certified sustainable seafood.
In the UK, one million children will tuck into a Sustainable Seafood Lunch, diners at Le Manoir aux Quat'Saisons will be able to choose from a menu specially designed by Michelin Star chef Raymond Blanc and MSC certified restaurants, canteens and sandwich shops around the country will be offering truly sustainable lunch options.
If you would like to join in, whether at home or in the office, a meal with friends or a child's packed lunch, then canned MSC-certified American Albacore Tuna is widely available and can provide a great ingredient for a whole range of nutritious sandwiches, salads, meals and snacks.
Now available at Sainsbury's, Morrisons, Tesco and Waitrose, own label Albacore Tuna Steaks in both water and olive oil is available at about £1.50 per 200g can. It is supplied by a group called the American Albacore Fishing Association (AAFA), a non-profit organisation whose members catch each and every tuna by hand. So, why not try it on the 30th ? If you enjoy it and want to help preserve fishing stock for future generations, switch to hand caught tuna when selecting the product from your supermarket shelves.