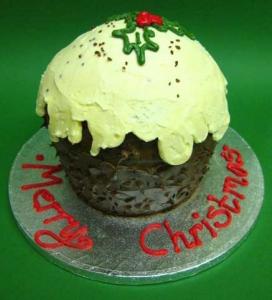 This Christmas, Natalie Allen's Sweet Things Cakery in Primrose Hill's quirky range of festive cakes include a Giant Chocolate Christmas Pudding Cupcake – shaped and decorated like a traditional Christmas pudding, it is in fact a chocolate cupcake made with the finest Belgian chocolate filling and butter icing. Retailing at £45 and serving 15-20 people, it is the perfect non-traditional Christmas Day treat.
The tempting Chocolate Orange Cupcake again focuses on the tastes and flavours that sum up the best of that time of year – a chocolate sponge made with orange peel and topped with Belgian chocolate ganache. The Gingerbread Cupcake is a vanilla sponge with a blend of gingerbread spices and topped with cream cheese icing and finally, the Mince Pie Cupcake, a vanilla sponge blended with sweet mincemeat and topped with vanilla butter cream with a sprinkle of cinnamon.
What started as an enjoyable childhood pastime – watching and helping her mother and grandmother baking cakes and all things sweet, turned into a passion for Natalie and over the years has grown into a hugely successful business. Having set up Sweet Things in 2005, the company now supplies Selfridges as well as around 20 other shops and delis in and around London with their range of fabulous sweet treats. Every Sweet Things cake or brownie is made fresh daily, using only the finest ingredients such as Belgian chocolate and Madagascan vanilla.
Sweet Things
The Cakery, 2 Primrose Hill Workshops, Oppidans Road, NW3 3AG