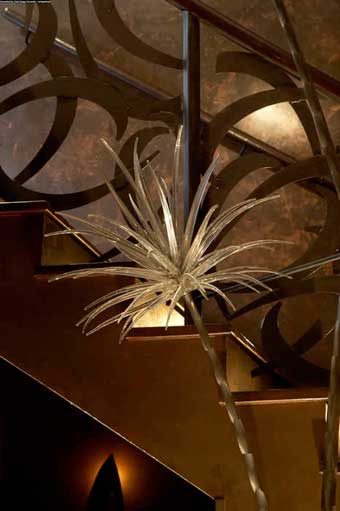 London's 'nouvelle Indian' restaurant, Tamarind, has regularly changing seasonal lunch menus created by acclaimed chef, Alfred Prasad. Alfred is revered in the industry for his mastery of spices and his exciting contemporary cuisine that successfully marries the traditional with the contemporary. The latest lunch menu, released just as spring seems at last to be in the air, demonstrates his style in an array of beautifully presented and delicious dishes including lighter lunch options and more robust, traditional choices. The new season lunch menu is, as always, flexibly structured and priced, giving Tamarind's diners the option to take two courses at £19.95, three at £22.95 or a selection of dishes served 'tasting menu' style at £28.95.
Tamarind's new lunch menu
Crispy friend potato and sweet corn patties with spring onion, ginger, chilli and coriander, topped with tamarind and mint chutney
Crab cakes with chilli, mint, coriander and lemon leaf, served on tomato chutney; topped with rocket and garlic cress
Tandoori chicken salad with sun-dried tomato, chard and frisée leaves dressed with olive oil, mustard and ground spices
***
Chargrilled paneer, pineapple, peppers in a honey and lime marinade, served with tomato sauce flavoured with fenugreek leaves
Tandoor-smoked chicken supreme with ginger, garlic, yoghurt and pickling spices, served on salad leaves
Oven-roasted Welsh lamb chops, pan gravy with tomato and ground spices
(All served with shitake and cup mushrooms with onion, tomato and crushed peppercorns, black lentils with cumin, chilli and garlic, braised rice with cumin and saffron, ajwain naan and chaat masala naan)
***
Warm date and walnut pudding with caramel sauce
Homemade honey and saffron ice cream
***
Tea, coffee, petits fours
Tamarind opened in Mayfair in 1995 to immediate acclaim. It quickly raised the bar for Indian cuisine, taking it into a new era and in the process spawning a generation of followers both in London and across the world. The fine cuisine served in the glamorous, yet understated Mayfair dining destination is matched by exemplary service, an impressive wine cellar and a guestbook that reads like 'Who's who'.
Tamarind, 20 Queen Street, Mayfair, London, W1J 5PR