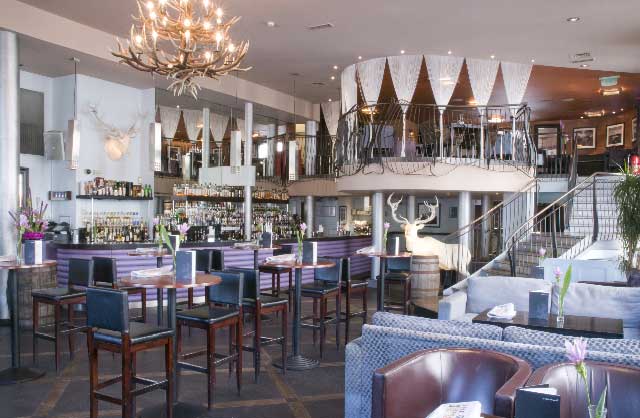 Join Albannach, London's contemporary Scottish bar and restaurant, on 6th April for Tartan Day, a celebration of all things Caledonian.
Tartan Day commemorates the signing on 6th April 1320 of the Declaration of Arbroath, in which Scotland asserted its independence from England. Get into the Celtic spirit at Albannach on Trafalgar Square with fabulous festivities spread across three elegant floors, including The Great Scottish Quiz, a special menu of mouthwatering morsels and, of course, whisky galore.
With the chance to win prizes including dinner worth up to £300 for your team, The Great Scottish Quiz will be a fun challenge for all. Whether your roots lie north of the border or you are simply a sympathetic Sassenach, join quizmaster Lester Middlehurst in Doon, Albannach's stylish subterranean cocktail lounge, for an entertaining evening that will test your knowledge of Scottish bands and music; legends and history; sporting greats; regions and cuisine. A highlight will be a blind taste test of whiskies, in which contestants will be asked to guess which region, brand and year for each. Tickets for teams of four to six people are available in advance by calling 020 7930 0066 for just £10 per person, including three drams of whisky.
Diners in the stunning mezzanine restaurant will delight in a specially created set menu that showcases the finest Scottish produce. For starters, choose from the likes of vanilla and Albannach 10 year old malt whisky cured Scottish salmon served with pickled cucumber. Delicious main course options include rib-eye of Buccleuch beef, dauphinois potatoes wilted spring greens and wild mushrooms. Playfully punning on tarte tatin, Albannach's tart tartan weaves its pattern with apples with other fruits and is served with a whisky chocolate sauce for a twist on the classic dessert. With two courses for £16.50 or £21.00 for three, this choice Celtic collation will be available from Tartan Day on Monday 6th April until Saturday 11th April.
If you appreciate a finer drop of the water of life, then when better than Tartan Day to reacquaint yourself with Albannach's signature whisky list? Boasting over 170 malts, Albannach's ground floor bar is a true temple for the whisky aficionado.
Albannach and Doon, 66 Trafalgar Square, London WC2N 5DS.
t: 020 7930 0066