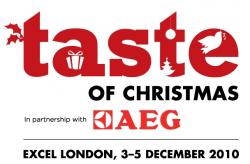 Taste of Christmas 2010, at ExCel London, signals an indulgent start to the season's festivities, from 3-5 December with three days of gourmet glamour, in and out of the kitchen.
Whether you're looking for Christmas cookery inspiration, essential seasonal ingredients, an accompanying wine for your festive table or the perfect Christmas foodie gifts, there will be plenty to fire up your imagination and your taste buds at Taste of Christmas.
Taste of Christmas has invited some of the country's best Chefs to appear at the demonstration and skills theatres to help you to hone your own Christmas entertaining. You will be able to watch Heston Blumenthal, Jean-Christophe Novelli, Antony Worrall Thompson, Atul Kochhar and many more live on stage preparing dishes that you might want to create at home for your own ultimate season of extravagance.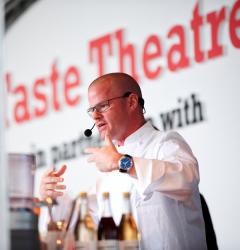 Visitors to Taste of Christmas will be able to find those ideal gifts to fill Christmas stockings from the boutique food and drinks market, where there will be goodies that will appeal to even the most difficult friend or relative. Look out for an incredible line up of artisan products, excellent ingredients and boutique suppliers. It's not just some of the best of British produce, but the continent's cuisine that will be on show and on offer. From small urban distilleries to old fashioned butchers, French wines to British cheeses, the world's your oyster
Not to be missed is the Taste Wine zone where visitors will be able to sample a range of different wines at the tasting tables, with sessions hosted by sommeliers, winemakers and industry experts. In the Taste Cheese zone there will be a whole range of traditional as well as different cheeses for you to sample to help you select that ideal Christmas cheeseboard. Taste Coffee will give you the opportunity to find that special coffee or blend to sip after your festive meal and the Taste Chocolate zones will allow you to sample some delectable sweetmeats to offer your family and guests with their coffee and after dinner drinks. Taste of Christmas will enable visitors to sample all these things in a relaxed atmosphere and to make the right choices for their Christmas celebrations, or simply for an indulgent night in.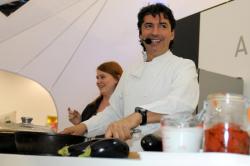 In addition twelve of London's top restaurants, including Benares, Roast, Amico Bio, Acorn House and Iberica will be serving up seasonal menus of gourmet dishes, from traditional classics to cutting-edge cuisine, which might inspire your own culinary adventures.
So, why not to get yourself into the festive spirit and get ideas to plan how to to eat, drink and be merry in style this Christmas. Prepare for the countdown, and take yourself along to ExCel London for this great Christmas extravaganza.
For those of you who were not successful in our Taste of Christmas competition the organizers have put together a special ticket offer for foodepedia readers. By clicking on the link in the Banner advertisement on our front page, or the link below readers will be able to buy 2 standard tickets for £28, a saving of £16 on the on-door prices.
To take advantage of this simply click – 2 for £28 or call the ticket hotline on 0871 230 7132 and quote FOOD2428. Booking and transaction fees apply.
To find out more about Taste of Christmas, visit www.tasteofchristmas.com