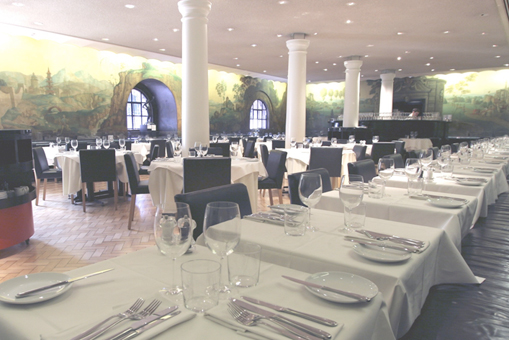 Those looking for an unusual way to celebrate Valentine's Day this year will have a variety of options at both Tate Britain and Tate Modern restaurants and cafés. Head Chefs at both galleries have worked together with award winning Sommelier for Tate Hamish Anderson, and created a fantastic offering to suit all tastes and budgets and an offer that is guaranteed to impress even the most discerning partner. Choose from a Champagne afternoon tea to a Seafood platter or a Roast rack of lamb for two to share at Rex Whistler Restaurant at Tate Britain. Alternatively, at Tate Modern you can enjoy a romantic date package combining lunch with an exhibition ticket or a special 3 course dinner with the spectacular view of the Thames and St. Paul's.
Tate Modern Restaurant Valentine's dinner
For a totally unique experience, Tate Modern Restaurant is open for dinner for the first time on Valentine's Day (the Restaurant regularly opens for dinner on Fridays and Saturday only). On offer will be a three course meal and a glass of bubbly for £39.50, with some special offers on Champagne by the glass selected by Head Sommelier Hamish Anderson a very rare opportunity for an evening celebration in this stunning restaurant. Highlights of the menu include Hebridean langoustines with lemon mayonnaise, Grilled cutlet of aged Sussex beef with first of the season Jersey Royals (for two to share) and Pot-roasted wild brill with palourde clams and Madeira sauce. For dessert, choose from Champagne jelly with poached rhubarb or perhaps a Baked Alaska, made to share with your partner. Jing tea or illy coffee and truffles round the meal off perfectly.
Art Lover's Lunch
Tate Modern, located on London's buzzing Southbank, will have just opened its Rodchenko & Popova Defining Constructivism exhibition. Those keen to see it early can take advantage of a fantastic date package including a two-course lunch with a glass of wine at the stunning Tate Modern Restaurant and entry to the exhibition for just £29.95.
Romantic afternoon tea
Lovers can also enjoy a romantic Champagne afternoon tea for £12.95 or perhaps a classic afternoon tea reasonably priced at just £6.95. This will be available at both the Tate Modern Level 7 restaurant and also at the Rex Whistler Restaurant at Tate Britain.
Valentine's Lunch for 2 at Rex Whistler Restaurant at Tate Britain
Tate Britain's Rex Whistler restaurant is open for lunch, and will be offering some classic sharing dishes such as a Shellfish platter with oysters, whelks, cockles, razor clams and shell-on-prawns or Roasted rack of lamb with mint & caper jus and fondant potato. The historic restaurant at Tate Britain has one of the most spectacular interiors in London with the specially commissioned mural, The Expedition in Pursuit of Rare Meats by British artist Rex Whistler covering all four walls. The exceptional wine list at Tate Britain includes many wines which can be enjoyed by the glass.
Booking information:
To reserve a table at Rex Whistler Restaurant at Tate Britain:
Call 020 7887 8825 or book online on the eating & drinking pages at tate.org.uk
To reserve a table at Tate Modern Restaurant and to book the Art Lovers Lunch:
Call 020 7887 8888 or email tate.modernrestaurant@tate.org.uk