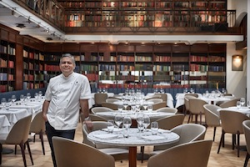 What?
The landmark London restaurant Cinnamon Club is reborn as Vivek Singh's The Cinnamon Club, rather like perrhaps Peter Halls's Shakespeare?  It's had a £1 million transformation ahead of its 15th anniversary, money which hopefully has finally laid to rest the rather persistent whiff of old MPs the place always seemed to have about it. A relic from the Grad II building's previous purpose as a library.
The Cinnamon Club's book-lined shelves and traditional features have been updated and elevated with dashes of colour and contemporary furnishings. Vivek Singh and Head Chef Rakesh Ravindran Nair have developed a new menu that combines The Cinnamon Club's signatures with new dishes and celebratory platters. A unique gin trolley offers cocktails from lunch through to supper. Whatever supper is.
Dishes
Celebratory sharing dishes ahve been added, carved and served tableside for between two and eight guests. Dishes include exclusive ingredients to The Cinnamon Club such as the milk-fed Herdwick lamb – a slowly-braised shoulder of lamb from the Lake District served with saffron sauce, pomegranate pilau, burhani raita and coriander chutney; and Old Delhi style butter chicken on the bone, with black lentils and garlic naan. A three-course set feast for tables of four or more includes dishes of Kerala spiced seafood bisque flamed with brandy; banana chilli with fenugreek, raisin and bitter gourd in chickpea batter and dessert of spiced banana tarte tatin with thandai ice-cream.
The Cinnamon Club's long-established take on game classics and delicately-spiced fish remain on the menu with signature dishes of wild Spencer Gulf king prawns with coconut ginger sauce and red quinoa and clove smoked grouse breast with rustic tawa mince and black lentils. The popular ten-course tasting menu will feature new seasonal options of carpaccio of home-cured Shetland salmon with green pea chutney; and roast loin of Oisin red deer with black stone flower and onion reduction.
Drinks
A brand new gin trolley in the main dining room offers a curated collection of gin, sourced from iconic brands and small-batch producers across the UK. With over 20 blends available including the rare Dodd's Gin, dedicated bartenders will serve cocktails including the premium Aromatic Martini (Monkey 47, Belsazar vermouth and tea bitters) and Spicy Affair (Tanqueray 10, saffron and chamomile).  A deluxe gin punch will also be available to share between four guests. The base is Star of Bombay – the premium gin from Bombay Sapphire – mixed with Grand Marnier Cuvée Du Cent Cinquantenaire and finished with a bottle of Krug Grande Cuvée. It's made in an elegant punch bowl and served in a stylish coupette.
The Cinnamon Club
Old Westminster Library, 30 – 32 Great Smith Street, London SW1P 3BU