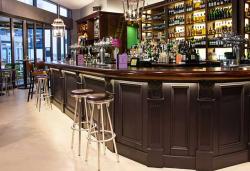 What is it about shopping and quaffing? Shopping mecca Westfield  in Shepherd's Bush has a row of champagne bars in its  designer'Village' which are  always well frequented by  shoppers perched  on stools knocking back the bubbly after popping into Prada or Mulberry for a bag or two and having a makeover in Chanel.
But the Bull, the only pub in Westfield and recently renovated by Geronimo Inns, is  aimed as much as workers, cinema goers and locals as well as those laden with designer carrier bags who look as if they just won the lottery.
The group  has recently given the pub a make-over bringing in a look they describe as 'townhouse chic with a twist of The Hamptons', and it does have an American style take on an old British boozer, which manages to keep a cosy pub-feel on the ground floor . Not the spit and sawdust pub that one might have found in the streets of Shepherds Bush of yesteryear, but The Bull is a cheery place to rest shopping legs and a convivial and spacious venue to meet friends.
Upstairs there is mix and match furniture sofas and comfy chairs and huge windows which mirror the Westfield glassy facade. There are toys and games and a big kitchen serving food all day long from full English breakfast and Lobster benedict to main courses and hearty pub food such as fish and chips and sausage and mash. Small plates of dips and breads and  charcuterie sharing boards are also on the menu and there is a decent range of craft and traditional beers and a sound wine list.
There is plenty going on at The Bull including master classes about gin and even life drawing classes.
The Bull . Unit 1033, Westfield Shopping Centre, London W12 7SL.