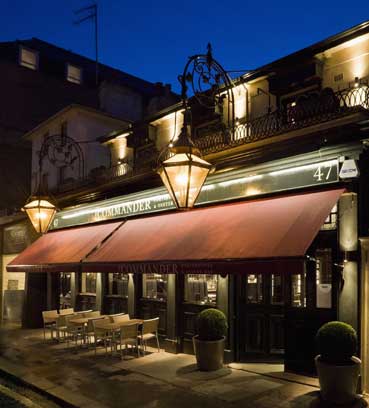 The Commander offers what they call a 360-degree dining concept, with an Oyster Bar; a bistro restaurant; a Deli with three private dining rooms; and a courtyard where independent suppliers will trade quality fresh fish and flowers.
The North American influenced dining concept offers a 'first class and comprehensive' culinary experience in 'relaxed and stylish surroundings'. The team at The Commander have been apparently trained to the high standards characteristic of North American restaurant service, to revive professional, unobtrusive 'service with a smile".
The Commander is good for a casual glass of champagne after work; dinner (from chefRobert Staegemann) or as a quality shop
The Commander has collaborated with both Hayford and Rhodes florist and John Norris fishmonger who have a retail presence on site whilst fresh meat from The Ginger Pig will also be available. Guests will be able to buy the best cut of meat or fish to take away or eat in the restaurant.
Michael Parker, Concept Designer and Operations Director comments: 'The Commander will fill an important gap in London's restaurant scene and will demonstrate how quality, variety and accessibility can all go hand in hand. Our close working relationship with our fish and meat suppliers will allow us to guarantee freshness and value. The Commander will provide the ultimate in customer service and diners will know that their food has been prepared with care from the farm to their fork. The expertise and experience involved in this project will provide a special and truly diverse dining experience for all: families, friends, colleagues and couples."