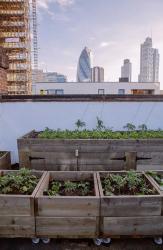 Spitalfields pub opens the roof for summer afternoon and evenings with exceptional picnics and a Williams Chase Gin bar.
The roof will open for bookable lunch and dinner picnics Tuesday – Sunday for the whole of August. Hampers are the creation of pub head chef, Sandy Jarvis and include The Culpeper pork pie with homemade picallili, rillettes, chocolate and walnut brownies, as well as other awesome picnic dishes and a Chase gin bar.
Guests will pay fifteen pounds per head to take part in the picnic, which includes their meal, a welcome drink, and blankets.
The team will be working with all British produce as well as produce from the rooftop.
Tickets: Are available directly from www.theculpeper.com/picnic
Dates:
4th, 5th July
10, 11th, 12th July
17, 18, 19th July
24, 25, 26th July
31st July, 1st, 2nd August
7th, 8th, 9th August
14th, 15th, 16th August
21st, 22nd, 23rd August
28, 29,30th August
4th, 5th, 6th September
11th, 12th, 13th September
Address:
40 Commmercial street
London
E1 6LP