Bored of eating out and only being able to have what's on the menu? Then you will love The Mall Tavern in Notting Hill's latest dining concept.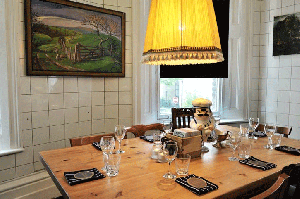 The critically acclaimed gastro pub has created an eating space in its very own working kitchen, aptly named Kitchen Table, which launched on the 15th of July. It will serve up a truly bespoke lunch or dinner experience as each reservation will include a consultation with Head Chef Jesse Dunford-Wood to put together a one-off menu, decide on lighting, table settings, special ingredients etc. You could of course choose favourites from The Mall Tavern's current menu too.
Think eight great friends around a table with wall-to-wall windows overlooking the leafy Kensington street below, eating delicious professionally prepared food just the way you want it. It would be like having a dinner party except you won't have to do the cooking or cleaning up!
Of course no dinner party would be complete without accompanying wine. So Mark Jones, The Mall Tavern's Manager will work alongside Jesse to suggest a selection of wines from Lea and Sandeman wine merchants.
Prices will vary according to the individual spread but start at £25 per head for a simple three-course lunch or dinner with wine.
To make an appointment to meet up with Jesse and his team or just for any further information please call the reservations team at The Mall Tavern on 020 7229 3374.
You can visit The Mall Tavern at 71-73 Palace Gardens Terrace, Notting Hill.