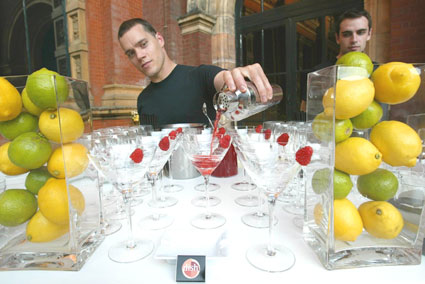 Always at the forefront of new and exciting food trends, award winning caterer Dish launches the ingenious 'Dish Miracle Bar' a fantastic new concept set to become talking point of the social scene,.
The Dish Miracle Bar will literally flip guests' taste buds with an array of specially designed canapés from an array of sour foods such as rhubarb, lemons, limes and even Guinness which will all taste wonderfully sweet! This is all made possible by sucking the marvellous, miraculous miracle berry, originally found in West Africa.
Dish Head Chef Tom Gore has pulled out all the stops to create a menu that guests may initially be cautious of but once the miracle berry has worked its magic on the tongue, their taste buds will savour and delight in dishes such as Guinness granita, raw rhubarb and grapefruit salad and lemon posset (all dishes are guaranteed to contain no added sugar at all). Suddenly experimenting with different foods and flavours from strawberries to malt vinegar doesn't seem so crazy as everything tastes wonderful! Tom has also created a host of wonderful cocktails to match the food all without the slightest hint of sugar or syrup de gomme! It's a size 0, Victoria Beckham dream!
Dish director Nick James said 'The Miracle Bar is exactly what we need to brighten things up at the moment. It's a flavour trip you'll never forget, people just can't get enough of the crazy combinations!'
Fiona Stewart-Brown added 'Food and drink isn't what it seems with the Dish Miracle Bar, we've got some really imaginative dishes for people to get excited about and go crazy experimenting with everything from oysters to oranges. This is Flavour Tripping at its most glamorous!'
Dish's Miracle Bar can be set up for flavour tripping parties anywhere at a cost of £30 for 50 guests including miracle berries, Dish Miracle Bar canapés and cocktails and staff to serve and clear. The effects of the miracle berry can last up to two hours.