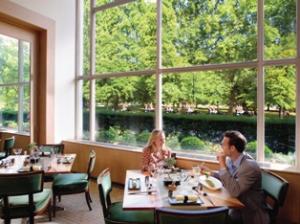 It was with sadness that I learned some months ago that The Park Restaurant at The Mandarin Oriental Hotel in Knightsbridge was closing, I have never written about The Park, though it has held a special place in my heart for some eight years now, long before I started writing for foodepedia, or for london-eating prior to that. Indeed it was my association with The Park that led me into reviewing restaurants. I was invited to a reception at the hotel, having been a regular visitor to The Park and it was this that led to me meeting and talking to Nick Harman the then editor of london-eating and now editor of foodepedia.
My eight year affair with this restaurant, that boasts fantastic views across Hyde Park, started in 2002 when my partner, Phillip Azevedo and I would book the odd afternoon off work to take advantage of what seemed to be excellent offers on Top Table. Indeed some offers were great, others less so, but when we first went to The Park it delivered on all levels. Their offering at the time was a three course lunch from their a la carte menu with unlimited wine of the sommeliers' choosing for some £35 per head. Many is the time that we sat down overlooking Hyde Park at soon after mid-day and enjoyed excellent dished from The Park's kitchen and then found ourselves still there at 4.00 pm having had a relaxed and thoroughly enjoyable meal and afternoon in this very civilised space. Some of our favourites among their starters were their soft shell crab, deep fried with dipping sauces and other accompaniments; divine beef carpaccio, lovely dim sum and their sashimi (with salmon and tuna). Among their mains, their blackened cod, was always superb and moistly flaky, their burger and chips excellent, the nasi goreng, always great and their tandoori chicken, sublime. Over the years their lunch (and dinner) with wine offering has varied, but it has always been remarkably good value, in our view and still is on offer there.
Over the years Phillip and I have together, or separately, taken many friends and colleagues to The Park, many of whom have loved the place and returned on their own as regulars, some who have reminded us from time to time that we should go there again, which have always been happy to arrange. We have enjoyed many celebrations there including our civil partnership celebratory lunch, when 12 of us enjoyed a wonderful afternoon there in August 2008. It has been part of our lives for what seems, in a good way, to be a lot longer than eight years and we will miss it, the excellent food and the wonderful staff. You might wonder why I have never written about it before, but the reason is simple, it would have seemed odd writing about a place that I have felt I had a personal relationship with, like an old friend. When The Park closes in early May I will have a tear of sadness in my eye but will have many fond memories of relaxed afternoons, laughter and celebrations there.

The news is not all bad though. There are exciting things afoot for The Mandarin Oriental. Daniel Boulud, owner of the three Michelin starred Daniel restaurant in Manhattan, will be opening Bar Boulud in the basement area where a restaurant is being created immediately below The Park and it's sister Foliage (which closed for business some three weeks ago). Bar Boulud is scheduled to open on 6 May this year, according to the latest news on The Mandarin Oriental's web site. Its design will be a French inspired bistro/wine bar and it will have an entrance directly onto Knightsbridge. The restaurant ares is designed to seat some 165 people and will have a full bistro style menu on offer including signature terrines and pates made on site. It will have a focus on the Burgundy and Rhone Valley wines as well as New World wines made in their style. We look forward to seeing this development when it opens.
It will be when Bar Boulud opens that The Park will close for business and work will begin on amalgamating the restaurant with Foliage, to create a new 140 seat restaurant which will be run by Heston Blumenthal. The new restaurant promises to deliver Blumenthal's unique style of cuisine, influenced by his continuing research into historic British gastronomy. There is no date set for the opening of this new partnership between Blumenthal and The Mandarin Oriental, other than the projection that it will open in the Autumn, but this is certainly something to look forward to at this conveniently placed central London location.
So, it is with sadness tinged with excitement that I will say farewell to The Park, but look forward to the exciting times ahead. I will undoubtedly be making at least one more visit there before its closure and would encourage anyone else to do so. For me, it is a special place.
The Park, Mandarin Oriental Hotel, Knightsbridge, London, SW1X 7LA Tel: 020 7235 2000 www.mandarinoriental.com