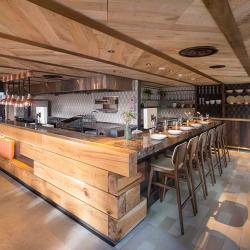 The Refinery at Regent's Place is the eighth bar and restaurant from the group behind The Fable, The Folly and The Drift.
Style wise it's all about floor-to-ceiling glass windows, polished natural timbers, reclaimed flooring and antique copper accents with low-slung leather chairs and sofas and a statement bar built from stacked oak sleepers.
On the night we went the open-plan kitchen powered out some good Scotch eggs with fine orange soft yolks, a healthy salad starring feta and watermelon, a well-cooked bit of Brill on top of young leeks, and gloriously doused in butter, and a grilled baby chicken with proper golden skin.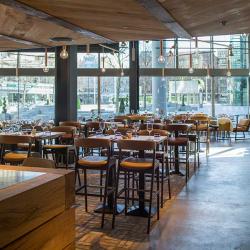 We finished with a tooth rotting salted caramel and plum sundae with honeycomb. Above average food for this type of restaurant, we thought.
It's a bit noisy in the evenings, but it's that kind of place with cocktails, beer and wine flowing freely to the after work crowd eager to shake off a day chained to desks.
In an area that's a bit of a desert for decent places, and with a motorway running through it, this has to be a good addition.
The Refinery,
5 Brock Street
Regent's Place
NW1 3FG