Brothers, Enrico and Roberto Cerea of Da Vittorio, Bergamo, bring their unmistakable culinary style to L'Anima, in the heart of the City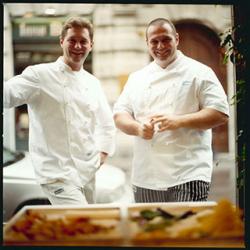 For three days only this November the dynamic Cerea brothers, Enrico and Roberto, from Bergamo's acclaimed Da Vittorio will be cooking a special menu at award-winning L'Anima, in the heart of the City.
From a multi-award-winning culinary dynasty spanning almost half a century, Enrico and Roberto Cerea live and breathe Italian cooking. Executive Chef Enrico, known as'Chicco' is the eldest son of Da Vittorio's founders, Bruna and Vittorio. Together with his younger brother, Executive Chef Partner Roberto, known as'Bobo', the two are renowned for their creativity, using the finest ingredients – all reflecting the traditions of Lombardy and the Mediterranean.
The Da Vittorio menu will feature dishes including:
Amuse-bouche – Crostino of Altamura Bread with Cantabrico Anchovies 
Stockfish Carpaccio with Bacon Foam, Coffee and Hazelnut Brittle         
Sardinian Fregola with Citrus Fruits and Prawns  
Risotto with Shellfish Bisque
Yellow Mediterranean Style Black Cod
Piccole Dolcezze
For reservations please contact L'Anima on 0207 422 7000 or www.lanima.co.uk
1 Snowden Street, London EC2A 2DQ.
Opening Hours: Lunch – 11.45 am – 3 pm; Dinner – 5.30 pm – 11 pm
____________________________________