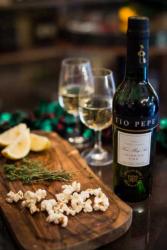 Discover the new and unusual art of sherry and popcorn matching this December as Tio Pepe has teamed up with gourmet popcorn specialists Pop of Notting Hill to produce a first menu of its kind, available at sherry bars and restaurants throughout the UK.
Foodies can head to London, Leeds, Cardiff and Bournemouth over the festive period to enjoy a glass of chilled Tio Pepe and share three unusual flavours of popcorn with friends, inspired by Britain's most loved seasonal tastes- Pigs in Blankets, Roast Turkey with Stuffing and Blue Cheese.
Popcorn expert Matt Guarente at Pop, inspired by the sherry renaissance, created the bespoke flavours to match the distinctively dry yet versatile flavour profile of the ultimate fino sherry – Tio Pepe.  The development process with the Tio Pepe Taste Experts involved testing over 100 individual flavour profiles alongside chilled Tio Pepe to create the perfectly balanced combinations. 
Guarente comments "'We knew at the first sip that the popcorns had to be bold, interesting and a conversation point. We wanted to create a series of flavours that can be savoured whilst being enhanced by the taste of the fino due to its palate cleansing qualities. We worked hard to get the balance right between the bitter and mellowness of the thyme, the correct amount of smokiness in the bacon and perfecting the strength in the Blue Cheese Popcorn – all whilst ensuring the flavours were big, bold, clean, flavoursome and authentic."
Priced at £5 per person, begin your sherry education with a 100ml glass of Tio Pepe and three servings of gourmet popcorn (3 x 30g between two people), on the menu at Bar Pepito in London, Bar 44 in Cardiff, Larderhouse in Bournemouth and Ambiente in Leeds from Monday 1st December – Wednesday 24th December.
Succulent Pigs in Crispy Blankets
Matt comments "Most people will taste bacon first – a natural ham stock with hickory smoke – then comes the unmistakeable flavour of the sausages with the signature mace, sage, and warm ginger and black pepper. The smoky and salty flavour matches perfectly with Tio Pepe's dry notes."
Golden Roast Turkey with Lemon and Thyme Stuffing
"The clean, sweet natural turkey base is a constant undercurrent but the lemon oil soon gives a citrus lift that compliments Tio Pepe's savoury tastes, before the unmistakeable bitter, floral thyme comes in at the end."
Blue Cheese with Celery
"The saltiness of the stilton is a fantasic match to Tio Pepe. The powerful front-end of the strong cheese hits first then mellows on the palate  – enhanced by Tio Pepe's palate cleansing properties. Then the toasty characters of the popcorn follow through, and every now and then a whole celery seed will make its fragrant presence felt, too."