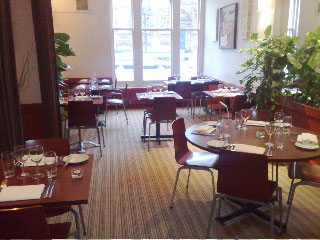 From July 1st, Restaurant Tom Ilic in Battersea, London, will be introducing a set menu, which will be available in the evenings until 29th August 2009, Tuesday to Saturday, priced at £16.95 for 2-courses and £21.50 for 3-courses, so still representative of the excellent value that Tom Ilic has become known for but without compromising on quality.
The set dinner menu (attached below) includes a choice of two starters, two mains and two desserts, with options including sautéed lamb sweetbreads, carrot and cardamom salad; baked fillet of sea bass, baby artichoke salad, soft herb beurre blanc; and peach and raspberry gratin with lavender ice-cream.
'It has always been my intention to serve a set menu in the evenings," explains chef patron Tom Ilic, 'and with diners increasingly looking for value and wanting to know in advance how much their meal will cost, now seemed like the best time to introduce one. We've also had many comments from customers travelling across London to eat at the restaurant that they would like to be able to enjoy a more leisurely meal at the weekend, so we are hoping that Saturday lunch will give them the relaxed atmosphere they crave."
In addition to the set dinner menu, an à la carte is also available, serving many of the meaty (especially pork) dishes Tom has become known for, although there are also plenty of other seasonal choices. Signature dishes, such as braised pig's cheeks and chorizo; and an assiette of pork with pickled white cabbage, apple and rosemary, remain, but other options include salad of hand picked Cornish crab, celeriac remoulade, avocado and chilled gazpacho; trio of lamb (saddle, cutlet and slow braised shoulder), gratin dauphinoise, broad beans and minted pesto; and poached rhubarb, ginger crème brûlée and madeleines.
The restaurant offers a succinct wine list, with house wine starting at £13, and there is a good selection available by the glass.
Anyone dining in the restaurant in the evenings from July 1st – August 29th will also be given a voucher to come back for a special value lunch during this period, which will be priced at £10 for 2-courses.
The dining room is simply decorated, with Tom's main focus being on the food rather than the décor. White and terracotta walls blend with plain wooden tables topped, lending a rustic feel.
Restaurant Tom Ilic is open for lunch Wednesday to Sunday, from 12 noon – 2.30pm (3.30pm Sunday), and for dinner Tuesday to Saturday from 6pm – 10.30pm. 123 Queenstown Road, Battersea, London SW8 3RH. Telephone 020 7622 0555 for reservations or visit www.tomilic.com