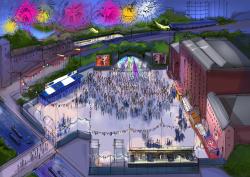 At Eurostar presents Traction, ticketholders will be able to satisfy their tastebuds and enjoy a range of exuberant street food from around the world thanks to eat street, including:
Well Kneaded – wood-fired pizza which you can have savoury or sweet, including apple, maple syrup and cinnamon pizza, fresh from the oven;
Kimchi Cult – Kimchi Cult's author, Danny spent time in Korea where he carved out a name as Street Foodie – the guy who would get into all the culinary nooks of Seoul and report back to the hooked-in readers of his blog. Then he wanted to flip it, jump round the other side of the counter and cook it. He returned to England rearing to go and immediately unleashed his K-Town classics onto an unsuspecting London. Now he's on the kimchi trail, taking him city-wide;
Buen Provecho – using recipes from the heart of Mexico, they sell traditional Mexican street food inspired from all regions of Mexico, just like Nonna would cook at home;
Liquid Nitrogen ice cream – hi-tech 'Heston Blumenthal' style food chemistry! Two vendors work to combine fresh ingredients and freeze them using liquid nitrogen as guests watch. The final product is fresh, delicious ice cream on wafer or biscuit, or in a cup;
A sausage stall, ostrich stall and crepe maker are all due to be added to the line up in the coming weeks…
In terms of non edible entertainment, joining Sébastien Tellier and The Brandt Brauer Frick Ensemble to complete the line up of European talent are:
Mercury prize nominee Ghostpoet;
London three-piece Plugs;
Holland's funky jazz artist Benny Sings;
Belgian spoken word performer Baloji & l'Orchestre de la Katuba…
As well as music acts, ticketholders can expect performances from the festival's curator, Gilles Peterson alongside never-seen-before collaborations between the musical artists and a host of creative performers.
Tickets
Tickets for Traction, which will take place on Saturday 14 July, are available on general sale at EurostarTraction.com or Ticketmaster.co.uk (£20). Fans hoping to experience the unique one-day event are urged to book soon, as earlybird tickets to the festival sold out in the first weekend after being released for sale in March.
Where
Traction is the inaugural event to take place in London's newest creative quarter – Granary Square – a stone's throw from Eurostar's central London terminus, St. Pancras International. Opening to the public for the first time in June, Granary Square will be one of the largest urban spaces of its kind in Europe. The square sits at the heart of the 67-acre King's Cross development, which combines new and magnificently restored historic buildings with an ambitious art programme featuring major commissions by internationally acclaimed artists.
Why
Peterson told Foodepedia: 'Over the last few months I've been searching the continent to find pioneering musical acts to join the Traction line-up. It's set to be an exciting day with six talented artists confirmed who will be helping us to put on an eclectic event this summer.'
Lionel Benbassat, Director of Marketing at Eurostar, added 'With less than 100 days until the Games, celebrations have well and truly started across the UK, and we are looking forward to making Traction part of the festivities in July. There has been phenomenal interest in Traction since we announced it just over a month ago, and earlybird tickets sold out within a weekend. With four more music acts confirmed today we have a really exciting and diverse line up, and with a number of creative acts still to come, ticket holders can definitely expect an event to remember.'
A Musical Revolution?
Ruth Mackenzie, Director, London 2012 Festival, said: 'Many thanks to our supporter Eurostar for bringing a truly European feel to the London 2012 Festival. Traction boasts a great line that's going to celebrate musical revolution in Europe as a highlight of the London 2012 Festival.'
Eurostar is the Official International Rail Service Provider for the London 2012 Olympic and Paralympic Games. During the summer, Eurostar will carry Olympic and Paralympic fans from the continent to London to soak up the atmosphere of the Games. Tickets for Eurostar services during the Games are open for sale. For more information about Eurostar or to book Eurostar tickets visit Eurostar.com or 'phone: 08432 186 186.
The London 2012 Festival is a 12 week UK-wide programme bringing together leading artists from across the world. Visit London2012.com/festival to find out more about the programme and sign up to be the first to hear latest news.