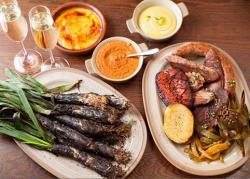 To celebrate Calcot season – the onion traditionally enjoyed in Catalonia during winter, and served with Romesco sauce, Tramontana Brindisa are launching a "Calçotada menu" which will be available from 12 – 5pm each Saturday until 15th March.
Calcots can be perhaps best likened to somewhat overlarge spring onions, or a form of leek because as they grow they are earthed up to keep the stems tender and edible. Between  the end of winter and March or April, they are consumed in massive quantities in the Catalan region and especially in the town of Valls where they are barbecued over dried grapevines until blackened and wilted.
Places must be booked in advance, and the menu (priced at £35 per person) includes a glass of Cava on arrival, and three courses – Calcots with Romesco sauce, a fabulous meat platter with butifarra, lamb, morcilla (black pudding), chorizo and presa with roasted artichokes and peppers, and baked potato, followed by Crema Catalana and coffee. 
152 Curtain Road, London EC2A 3AT