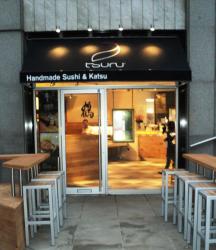 I arrived in the City an hour early; not a great idea when it's the start of rush hour, and you have nothing to do but pootle about. But this was my stomping ground some years ago, so I had a little stroll down memory lane, which did nothing more than remind me how much I miss working there. But of course, it's changed a lot since my days there, and one of the most noticeable things is how the variety of places to eat and drink has changed; the major coffee chains have pretty much kicked the arses of individual establishments (more's the pity) and in some ways, the City is now Anywhere, U.K. Into this changed environment comes my reason for heading back to the City; the new Tsuru Mansion House outlet in Queen Street.
Tsuru's Mansion House outlet is the third in this chain offering sushi and other Japanese food and drink in smart, casual surroundings. We were there for its launch on its second day of operation, and everything felt (and smelled) very new. The decor errs on the side of function, but the form is attractive too, with plenty of wood tones and smart lighting creating a warm environment.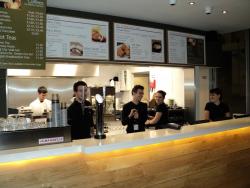 We started with a glass of Vermentino, a crisp, dry white, which Tsuru sells by the glass or the bottle and which we thought would go well with the sushi – it certainly paired nicely with excellent wasabi peas. I had planned to stick to white wine all evening, but how wrong would I be? Still, more of that later…
The first of the food to arrive was the vegetable sushi; rice and seaweed in an omelette-like casing, it had bold, fresh flavours, and set the bar high. Tuna nagiri and salmon nagiri maintained the standard – delicate but well-flavoured fish on perfectly held together rice, they were terrific, and a testament to the quality of fish that Tsuru uses. Next up was salmon and avocado uramaki, the filling surrounded by sticky rice that had been rolled in tiny fish eggs. I loved the way the eggs popped as I chewed, a bit like culinary bubblewrap.
We then tried some tempura; aubergine was pleasant if unremarkable, but then I've never found aubergine to be very interesting. Asparagus was much more to my taste; keeping a nice crunch, it was perfectly cooked. And the prawn was a triumph, juicy and tasting as fresh as a daisy, we thought they were a definite highlight. All of the tempura dishes were well cooked, the batter light and crisp, working well with the underlying ingredient.
To round off the evening, we tried the chicken kara-age, which is on the Tsuru menu as a side dish. Thighs marinated in soy and mirin, with a katakuriko flour coating, these nuggets of chicken started with a crisp bite, and had the depth of flavour that you would expect from thigh meat (oh, stop).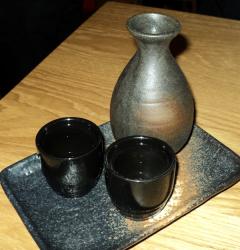 So, we had planned to stick to the white wine during the evening, but a Very Bad Man was there from Akashi-Tai, a company that has been producing artisanal Japanese beverages for 125 years. He was there with three sakis, all available at Tsuru, and in the interests of thoroughness, we tried all three. The first, Honjozo, was served warm, and slightly diluted; neat, it would be 20% by volume, and possibly a little harsh. As it was, we liked it a lot. It had a slight alcohol burn, but with delicate citrus flavours coming through – more so as it cooled. We also thought that the taste was slightly honeyed, but dry, and very nice. We then tried the Daiginjo; slightly stronger as served (17% by volume), this was slightly more floral, and less obviously alcoholic; but only a little less. The third saki, the Shiraume Umeshu was my favourite. Plum infused, it was sweet, but not cloyingly so, and very smooth. It put me in mind of damson gin, with its mellowness and depth; delicious. Not great for my head the next day, but irresistible at the time.
This wasn't our first experience of Tsuru – you can read about our visit to their Bankside outlet here and it won't be our last. Tsuru is still very much the new kid on the block, and I don't think it's unfair to say that they're not looking to change the world, but there's certainly a place for them, because what they do, they do very well. The Mansion House outlet will be open until 10 p.m. daily, so whether you want lunch, an evening meal, or something to tackle the post-drink munchies, it is well worth a visit.
Tsuru Mansion House, Aldermary House, 10 Queen Street, London EC4N 1TX www.tsuru-sushi.co.uk