With Valentine 's Day fast approaching you might be looking for a nice bottle of bubbly or something pink and lovely to share with your loved one on the day itself, or over the weekend that runs up to it. We tasted four wines, all at around the £6 mark, that might be just what you are looking for. All four are widely available and very affordable for quaffing while having a romantic night in, with your Valentine's dinner, or before going with your partner to that romantic restaurant. And let's face it, at these prices you could probably afford more than just the one bottle.

The Hardys Crest Chardonnay – Pinot Noir is a crisp pale white sparkling wine. As you lift it to your nose, it gives you fresh clean sharp green fruits and a hint of citrus. On the palate, as you wash it around your mouth you get a nice sharpness on the edge of the tongue and there are fine under-ripe strawberry flavours, together with a biscuity toastiness. Although a Brut wine its fruity flavour gives a hint of sweetness in the background and some good tang comes through in its length, leaving you with a good sharp finish. The wine has an abundant stream of fine soft bubbles and although crisp, it has a creamy texture in the mouth. This is a wine that would be great to drink on its own, but could also be used in making a kir, using cassis or your other favourite fruit liqueur.
The Hardys Crest sparkling Chardonnay – Pinot noir has an RRP of £5.69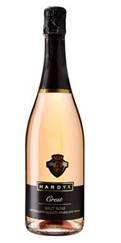 The Hardys Crest sparkling Rose is an attractive delicate pink in the glass. As you take in its aroma you get you get fresh red berries, strawberry and raspberry in particular and there is a distant hint of watermelon. On the palate you taste lively sharp strawberry with some citrus and cranberry notes coming through. The wine has a good acidity, yet it has some body and a creaminess in the mouth. It is clean and refreshing with medium/gentle bubbles and leaves you with a good, lingering acidic fruitiness on the tongue in its length. This is a wine that absolutely can be drunk on its own and its delicate shade of pink would lift any romantic moment.
The Hardys Crest Sparkling Rose also has a RRP of £5.69

The Hardys VR Rose 2010 is a lovely deep pink still wine that looks rich and inviting in the glass. It has a bouquet of fresh strawberry, raspberry and a hint of redcurrant. As you drink it you taste strawberry very strongly on the palate and watermelon, it has a fruity 'sweetness' and some tang on the edge of the tongue when washed around the mouth. It is a wine with a slight syrupy mouth coating quality and has some nice length to it. The bottle recommends accompanying antipasto, and yes, it would work with starter dishes like that, but equally, it is certainly a wine that can be enjoyed while relaxing with someone special.
Hardys VR Rose has a RRP of £6.20

The Fish Hoek Pinotage Rose 2009 another blushing pink wine has an edgy strawberry sharpness as you lift it to your nose. On the palate there is soft ripe strawberry with some cherry notes and a little effervescent tang on the edge of the tongue. This is a good easy drinking fruity wine with some nice length, its flavour develops as its temperature rises in the glass becoming bolder. This is a wine that again is perfectly fine for enjoying on its own but would be a great accompaniment for fish dishes, perhaps poached salmon, or with lighter meat starter dishes.
The Fish Hoek Pinotage Rose has a RRP of £6.90
For further information about Fish Hoek wines go to www.fishhoekwine.com
For further information about Hardys wines go to www.hardys.com.au