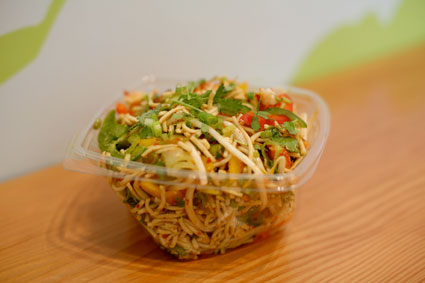 Tossed, the new generation of healthy eating venues focusing on main course salads, has launched a new 'value' range which changes weekly. All priced at £2.95, these uber wholesome salads are big on taste, generous in size, the perfect credit crunch lunch.
Freshly made every few hours and displayed in the chiller cabinet, they are ready to 'grab and go'. Two of the most popular, reflecting the seasons, are Tuna 'n' Corn – a delicious combination of cous cous, tuna, sweetcorn, red onion, cheddar and cucumber tossed in Ranch dressing, and Winter Vegetables – a feast of cous cous, roasted butternut squash, green beans, red onion, broccoli, roasted new potatoes, pumpkin seeds tossed in Basil vinaigrette.
Low in calories, with hardly any fats, but high in protein and nutritional content, with these value salads Tossed takes healthy eating to a whole new level. Health meets indulgence in a bowl, as the quality of the ingredients makes these main meal salads a foodies dream, even on a budget.
Tossed are located at: 101 St Martin's Lane, Covent Garden, WC2N 4AZ Tel:0207 240 3599; 10 Sheldon Square, Paddington Central, W2 6EZ Tel:020 7289 2516; Monsoon H/O, The Yellow Building, Notting Hill Village, 1 Nicholas Road W11 4AN Tel:020 7243 4103; Harrods102, 102 Brompton Road, Knightsbridge, SW1X 7ZY Tel:020 7581 7020; 31-33 Baker Street, W1J 8EJ, Tel:020 7486 8555; Westfield London, Ariel Way, White City, W12 7GE Tel: 020 8740 9613. Open from breakfast to early evening. (Westfield London from 10 am to 9 pm – 12 to 6 on Sunday). Two more units are opening in the Spring.