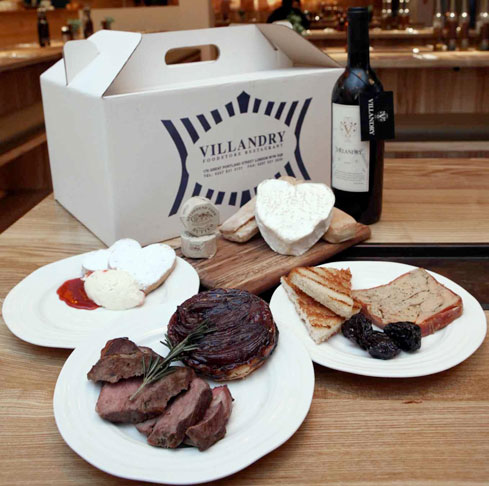 Villandry, the renowned Great Portland Street Foodstore and restaurant, has come up with the perfect 'cheat' for a romantic, home cooked Valentine's meal.
The Villandry Prestige Valentine's hamper contains four delicious courses including foie gras and lobster, and comes with full instructions for easy heating and serving.
At £46.50 per head for four courses, hand delivered to your home or office, it is the perfect solution for a beautiful, hassle free Valentine's meal at home.
Jamie Barber, owner of Villandry, said: 'It's the time of year where we have to think carefully about creating the right impression on Valentine's night. The Villandry hamper is a fool-proof way of creating a beautiful romantic dinner at home. We've included a Valentine table decoration and can add Champagne and wine to make it extra special.'
Valentines 2009
(£37.50 per person for 3 courses/ £46.50 per person for 4 courses)
Customers are asked to select one starter, one main, one dessert and one cheese per hamper. Regretfully we cannot accommodate mixed orders.
Full instructions will be included with the box.
Hamper includes a Valentine table decoration. Please ask us for a selection of Champagnes or Wines to be included.
Last orders, Thursday 12th February.
Starters
Terrine of foie gras with toasted brioche and fig chutney
Ceviche of salmon with herb salad and pink grapefruit
Salad of autumn leaves with herb rolled soft goatÂ's cheese, quince and pickled walnuts
Main Courses
Fillet of sea-bass with aubergine caviar and roasted fennel
Coeur of wild mushroom lasagne
Thyme Roasted rump of lamb with red onion Tatin, and port wine
Sauce
Grilled ½ lobster with tarragon mayonnaise and roasted garlic potatoes (suppl £6.00pp)
Desserts
Dark chocolate truffle cake with compote of cherries and kirsch
Strawberry galette with crème Chantilly and strawberry coulis
Fig and almond tart with crème Anglaise
Cheeses
Neufchatel with filone sticks
Heart shaped organic Godminster cheddar with biscuits
Valentines goat's cheese platter with oatcakes
Heart shaped Campagne loaf with rosemary skewer