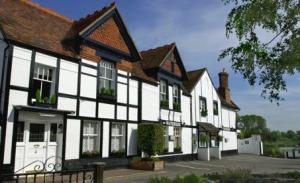 To celebrate the 25th anniversary of three Michelin-starred restaurant The Waterside Inn, Michel and Alan Roux are offering local residents a three course meal for the price it cost way back in 1985- the year the restaurant was awarded its third star.
On 13th, 14th, 20th and 21st October people living within a 10 mile radius of the Berkshire restaurant can enjoy the famous Menu Gastronomique for the 1985 price of £14.50. The lunch menu would cost diners £56 at todays prices, so it's a great chance to get in on a bargain!
If you're wondering just what your £14.50 will buy you, you'll be pleased to hear that Velouté de Châtaignes au Champagne, Julienne de Volaille et dés de Celeris rave (Chestnut and Champagne Velouté with Chicken Julienne and Diced Celeriac) and Tarte au Chocolat et aux Framboises, Sorbet à la Framboise (Chocolate and Raspberry Tart served with Raspberry Sorbet) are all on the menu.
The Waterside Inn is unique in that it's the only restaurant outside of France to be awarded with Michelin's highest honour for 25 consecutive years.
Michel Roux explains why The Waterside Inn is reaching out to customers with a cut price menu, saying "It's a way to show our regular customers how much their support has meant to us over the years. A great restaurant doesn't become great overnight. It takes time to build up this kind of reputation. Many of our local patrons have been there from the very start, so it's only right that we should repay their loyalty in this very special year."