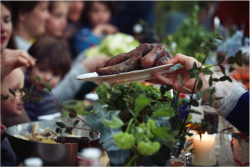 Weber® and Tom and Henry Herbert of TLC's The Fabulous Baker Brothers: A Bite of Britain have joined forces to encourage the UK and Ireland to reach out to their neighbours and get together this summer with the launch of their Come on Over competition.
Tom and Henry recently shared a memorable day with friends and family when they invited them to come on over and celebrate Tom's birthday. Using Weber® barbecues, they cooked up a fantastic feast for them all.
Weber® would like to encourage everyone to invite their friends, family and neighbours round, to get together and share great food cooked on a barbecue. That's why they're giving you the chance to win your very own "Outstanding Moment."
Weber® will give you everything you need to host a memorable occasion with your friends and family. They'll provide a barbecue and accessories, which will be yours to keep, have an expert Weber chef teach you how to use them, dress your outside space to create the perfect atmosphere, and provide all the food and drink for you to cook up a feast.
All you'll have to do is invite your guests to #ComeOnOver
To enter you'll need: a placard or piece of card or even piece of paper, a pen and access to an outdoor space.

1. Write your name, location, occasion and'#ComeOnOver' on the placard/card or paper.
2. Take a picture of you holding your sign in the outdoor space where you'd like us to throw your outstanding moment.
3. Share it on our Facebook, Twitter on Instagram using #ComeOnOver.
Weber® will pick one lucky winner each month until September1. Winners will have a choice of a charcoal or gas barbecue: either a Mastertouch or Q3200. Enter now for your chance to host the first party.
For more information and to see Tom Herbert's very own "Outstanding Moment' visit www.weber.com. Terms and conditions apply.
Good luck, we're keeping our tongs crossed for you!