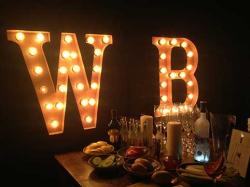 Down in the subterranean of Shoreditch lies a newly opened basement hangout, WM Barker & Co. An artisan coffee/breakfast pit stop in the morning and come evening a bar open till 3am serving shrub cocktails, craft beers & premium spirits, it's tasty business.
It soon became clear to me that WB doesn't offer your conventional cocktails but instead those made from shrubs.  No, I'm not talking botany, these cocktails are composed from sweetened vinegar-based syrups called'shrubs', which give their drinks a distinctly tangy and unique taste and unlike none I've drank before.
All cocktails are colloquially named such as'The Artist' representing Shoreditch and'The Trader' for Canary Wharf, which I found were rather apt names as there is a mixture within the crowd at WB giving it a'cosmopolitan' vibe where I'm not completely surrounded by hipsters or bankers alike.
After a couple shrub cocktails it was time to step over to my home pitch, beer. They have a decent selection and a few of the notable craft ales are Meantime, Camden Town Brewery and Hiver. The latter as hinted by its name is brewed with honey and to my surprise did not taste like a sickly cordial as I thought it would.
As the night progressed, I caught a scent and like a bloodhound I pursued it. With my nose leading forth, I discovered the culprit, a mac and cheese toastie. This however was not your average toastie, but filled with chorizo pate and caramelised red onion. Soon before I realised; the platter was two toasties lighter and my appetite somewhat lessened. If a toastie however is not what your stomach is calling for though WB also offers a selection of locally made cheeses and charcuterie.
Food is served in the mornings too, so after a night of cocktails or simply walking past and in need for a refill, I say go to WB and try their breakie bites or Arabica bean infused water brews, which most certainly help kick start your day!
Named after Will Barker, a brandy and wine merchant, his legacy 200 years later lives on and I want to drink more'shrubs' and eat more toasties, as this is definitely a place I would recommend and return to.
202 Bishopsgate London  EC2M 4NR
Mon-Wed 7am -12am / Thurs-Sat 7am – 3am